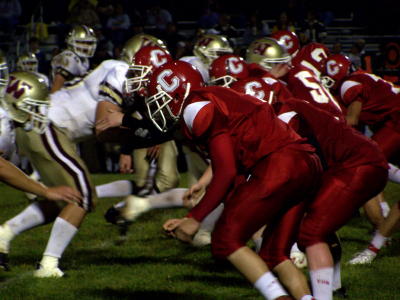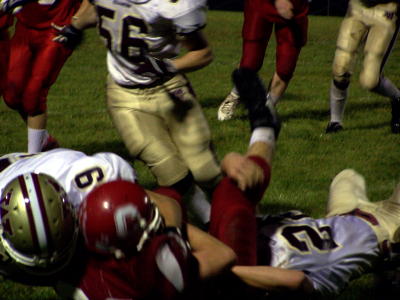 By Gaylen Duskey
realfang@citlink.net
When you are playing the number two team in the state you have problems.
When you have to play that team without your starting fullback and the leading rusher in your conference you have even bigger problems.
And, when you lose the player that is backing up your starting fullback on the first series of the contest and you have to put in a 135-pound freshman ... well, that's big, big problems.
Not that having starting fullback Caleb Hart or his backup (Eddie Burrows) for the whole game would have changed the winners and losers, it still could have been closer than the 41-13 whipping Williamstown laid on Calhoun Friday night.
The second-ranked and unbeaten Class A Yellowjackets scored early and often en route to handing Calhoun its first loss of the season. Williamstown had six different players score touchdowns before Calhoun got on the board in the fourth quarter.
The Yellowjackets scored the first time they got the ball when Brandon Roberts hit 6-6 tight end Ross Elder from five yards out. The scoring pass was set up by a 71-yard run by Greg Davis.
The Jackets made it 14-0 minutes later when Ben Powers rambled 50 yards with a punt return making it 14-0 at the end of the first quarter. That was quickly followed by Davis' five-yard scoring run early in the second quarter to make it 21-0.
The Jackets made it 28-0 about five minutes later when Roberts hit Ryan Flowers from seven yards out.
Then, 45 seconds later, the Jackets scored again when tackle Bernie Buttrey lined up at fullback and rambled into the end zone from four yards out.
That made it 35-0, which was the score at the half despite Calhoun giving the ball up on downs deep in its own territory with less than a minute remaining. The Jackets decided to take a knee and let the clock expire rather than trying to punch another score in before the halftime break. After Calhoun held Williamstown scoreless in the third quarter The Jackets completed their scoring early in the fourth period when Roberts got in from a yard out. Williamstown's outstanding kicker Russell Palm missed the extra point making it 41-0. It was just about the only mistake Williamstown made up until that point.
Calhoun finally got untracked late in the fourth quarter and scored on Jeff Goodrich's five yard run to make it 41-6.
The Red Devils scored again when Matt Houchin hit Zack Moore with an 11-yard scoring pass. Nick Whytsell added the extra point.
With the win Williamstown moves to 5-0.
Calhoun, now 4-1, will probably be 12th or 13th in this week's WVSSAC ratings.
The Red Devils will try to rebound from their first loss of the season when South Harrison (3-2) comes to Mount Zion for homecoming.