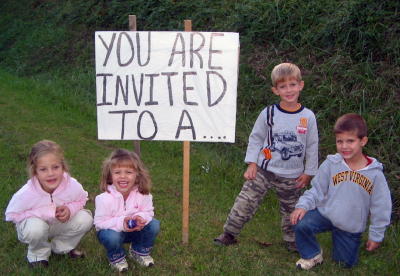 L-R Carissa Yoak, Kaylin Parsons, Adam Parsons
and Jordan Yoak are proud Red Devil supporters
It's a big game tonight at Mt. Zion - the Calhoun Red Devils vs. the Williamstown Yellow Jacksons.
Kaye Yoak says, "My little cheerleaders and I would like to challenge the homes and businesses in Calhoun to get out and show their support for the football team by placing signs, banners and balloons visible from the road."
"This is a big game for them and they need to know the people of Calhoun are behind them," Yoak said, "They have worked hard to get this far, and people in Calhoun should be proud."
The Calhoun Red Devils will take on the Williamstown Yellow Jackets at 7:30 p.m. Tickets are $5 for students and adults.
Come early for a parking spot.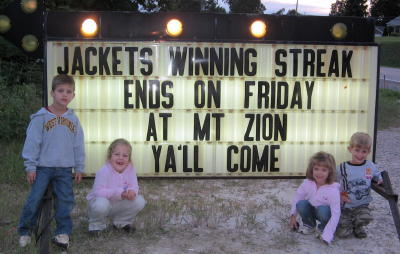 This sign board is located at Parsons One Stop on Pleasant Hill