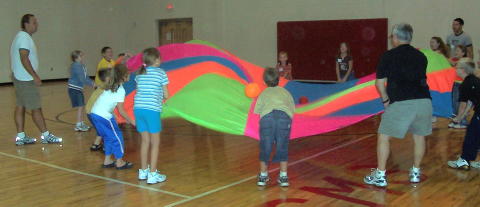 Participants have fun playing parachute games
Submitted by Jean Simers
One hundred thirty one parents and children attended the first Saturday Family Fun Day Saturday, September 16th at Calhoun Middle-High School. The Saturday Family Fun Days is a cooperative endeavor including Heads Up, Gear Up and the Parent-Educator Resource Center.
Heads Up opportunities are funded through a grant from the 21st Century Learning Center Grant. Heads Up provides after school tutoring and other activities at all three schools year Calhoun County Monday-Thursday. Janice Westfall is the Lead Teacher at Arnoldsburg School; Kelli Whytsell is the Lead Teacher at Pleasant Hill School; and Jean Simers is the site coordinator for Calhoun Middle/High School and the county coordinator of the Heads Up program. She may be reached at 354-7595.
Gear Up is a project for this year's seventh and eighth grade students and will follow that same group through graduation providing information about colleges and post-graduate opportunities. JoLynn Wilson is the county coordinator for the Gear Up program. If you would like more information you can contact Mrs. Wilson through Calhoun Middle-High School at 354-6148.
The Parent-Educator Resource Center is made possible through the Title I program. Lisa Groves and Patsy Kisner provide resources to parents on a multitude of subjects. They may be contacted by calling 354-9504.
There are eight Saturdays scheduled throughout the year. If families attend five out of the eight events they will be eligible to attend a trip in May 2007. The parents who attend the Saturday Family Fun Day scheduled for October 21st will be voting on where the trip will be. The October Saturday will be an like an old-fashioned school carnival with booths set up for the kids and activities for the parents and kids together.
The parents and their children started the morning with a continental breakfast. After which the parents went to the auditorium for a presentation by the Parent-Educator Resource Center and their children were divided into groups for their own activities. Activities for the children were provided by Kelli Whytsell, Kristie Ritchie, Janice Westfall, Terry Jones, and Leah Offutt.
The children not only created crafts on Saturday, but also enjoyed music and parachute activities in the gymnasium with John Bugby, Scott Golinsky and Chip Westfall.
Babysitting services were available on Saturday and will be provided during each of the Saturday Family Fun Days. This Saturday's services were provided by Amber Price, Norma Randall-Myers and Hannah Wilson.
Parents winning door prizes were: $20 Wal-Mart gift cards donated by Heads Up, Lori Bailey, Larry Baker, Jan Whited and Betty Wilson; Gear Up Blanket - Roberta Hall; Coffee mug donated by UniCare - Richard Butler; Stapler donated by UniCare - Danielle Stevens; Candles donated by the Parent-Educator Resource Center - Shena Heiney; and two mini first aid kits donated by UniCare - Kathy Barr and Mitch Stevens.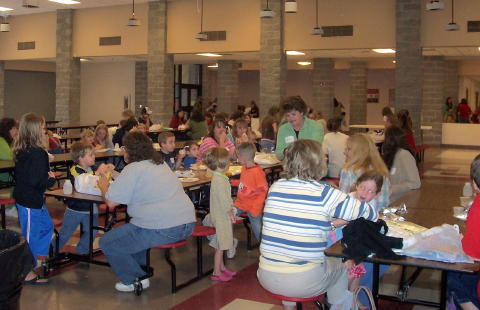 CMS Athletic Booster catered the lunch event for the group
If you would like to register your family for the Saturday Family Fun Days, please contact the Heads Up office at 354-7595.