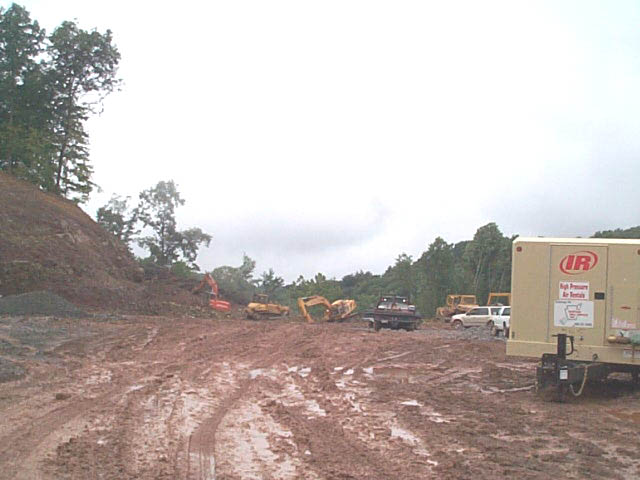 Deep well site between Route 5 and Little Kanawha River
The hustle and bustle of dozens of title researchers in the Calhoun courthouse, numerous geological surveys from one end of Calhoun to the other, and the maneuvering of corporate developers with royalty owners has come to a head. Calhoun's first deep well will soon be in operation along Route 5 near Grantsville at the mouth of Bull River.
This well, estimated to cost two-and-one-half million dollars to drill, is on royalty originally owned by the Johnson family, part of which was leased to Calhoun oil and gas developer Francis Cain. The big player is a corporate construct known as Ardent Resources, whose address is listed as Pittsburgh.
Meanwhile, in the background, corporate lawyers are maneuvering to assure their stockholders the best of deals, with the the citizens and royalty holders of poor, rural counties in West Virginia waiting to see what kind of shake they will be given. Historically, it has not been one of fairness.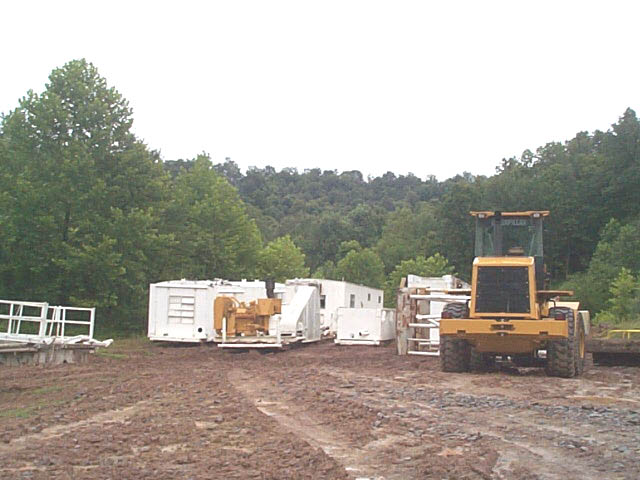 Equipment moving in and site preparation is rapid
Two other deep well sites have been prepared along White Pine Road by a business partnership created between Ike Morris of Glenville and the Cabot Corporation.
Sources in Grantsville say the deep well site between Route 5 and the Little Kanawha River, the actual location near the top of a hill, could commence within a few days.
The Calhoun Commission is expected to discuss the myriad's of questions around taxation of deep well projects Thursday evening. Roane County Assessor Emily Westfall, whose county has the first deep well to come in about two years ago, has said there are serious questions to be answered regarding fairness.