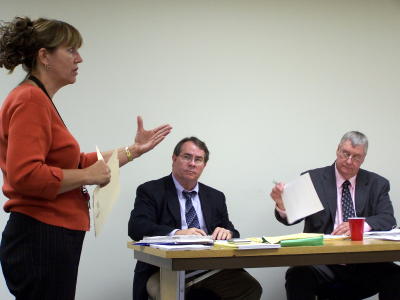 Linda Jarvis (left) addresses school superintendent Ron
Blankenship, school board president Lee Evans (right)
and other board members, about middle school discipline
"After 30 years at teaching, I'm teaching again," said Calhoun Middle School instructor Linda Jarvis, who has been one of the school's leaders in implementing new approaches to student discipline.
Jarvis made her comments to the Calhoun Board of Education last night.
The middle school program is called "Respect and Protect," and Director of Curriculum Greg Cartwright said the school's teachers are embracing the multi-leveled approach to help students improve their behavior.
After what has been described as increasing discipline problems in middle school, Cartwright said "We're taking the school back again as a place of learning."
School board president Lee Evans commended the administrators and teachers for their efforts, saying the school board members are behind them 100%. Evans had discussed the seriousness of the discipline problem at an earlier board meeting.
The behavioral intervention program has a number of steps to address discipline problems, depending on the level of mis-behavior, according to principal Karen Kirby.
While intervention starts with the teacher and student, the parents will become involved. Students will be receiving a Conduct Grade on their report card.
In September 2005, 36 of 85 students had behavioral referrals at Calhoun Middle, said Jarvis, or 42%. That percentage has dropped to 31%.
There were 185 detention referrals in September 2005 (21 days) to 11 detention referrals in September 2006 (15 days). One student had four of the ll detentions.
"I hope parents understand we're working hard with the kids who have problems to modify their behavior," said Jarvis. "And we'll work hard with the parents."
School officials said the discipline problem in middle school has been increasing in recent years, a situation that is not peculiar to Calhoun Schools.
Jarvis said "We really want it to get better and focus on learning."