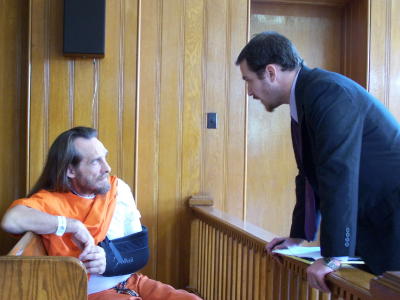 Billy Ray Hardway (L) consults with attorney
Rocky Holmes (R) before requesting bond reduction
A Daniel's Run man plead not guilty yesterday in Calhoun Circuit Court, after being indicted on one count of a felon in possession of a firearm.
Billy Ray Hardway, 45, was indicted on the charge by a September Calhoun Grand Jury, although three counts of wanton endangerment were apparently dropped, all related to an incident in early August involving three juveniles.
Hardway's attorney Rocky Holmes appealed to Judge David Nibert during the arraignment to reduce Hardway's bond from $100,000 to $10,000, based on the single chargeable offense.
Prosecutor Matt Minney opposed the reduced bond, indicating Hardway presents some serious risk factors.
Hardway claims he is being denied medical treatment on an injured arm by being incarcerated.
The injury resulted from a gunshot wound inflicted by DNR officer John Apgar, who was attempting to serve a warrant on Hardway in August.
Hardway, according to the complaint, would not present himself and was hiding behind a kitchen door, at which time the report said he was reaching for a knife.
It was at that time that officer Apgar shot him.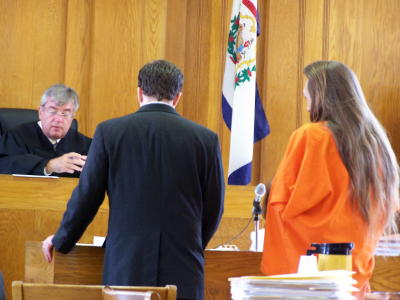 Judge David Nibert rejects request for bond reduction, at least for now
Misdemeanor charges against Hardway for assault on DNR officer John Apgar are still pending in Calhoun magistrate court, filed by investigating officer Cpl. Doug Starcher of the WV State Police.
That case has yet to be scheduled.
During yesterday's arraignment, defense attorney Rocky Holmes tied a number of circumstances together in an attempt to have Hardway's bond reduced.
Holmes said Hardway's firearm conviction dated back to 1982, but Prosecutor Matt Minney responded by saying that Hardway is wanted on charges in California, indicating they did not want to extradite him.
Holmes, focusing on the single charge related to the possession of a firearm by a felon, said the case was "based on an illegal search and seizure, and should not have been filed."
He then expanded to what could be the basis for his defense of Hardway, saying "There was no evidence that he had a knife in his possession."
Minney pointed out that bond is based on whether or not the defendant will appear, or do further harm while released in society, indicating he felt Hardway is a risk.
Judge Nibert ordered probation officer Patsy McCartney to investigate issues that would affect Hardway's bond, and report back to the court, leaving his bond at $100,000, for now.
In other cases yesterday:
- Gary Lee Nicholson's attorney Drew Patton requested reduced terms for his $15,000 bond so he can be released from Central Regional Jail, after which prosecutor Matt Minney said Nicholson had a really bad record of not appearing. Judge Nibert declined to make a decision on the request, requesting further information.
- James D. Hall, who is currently incarcerated on charges from Kanawha County, entered into a plea agreement with the court after he was charged with the daytime burglary of the Eugene Duskey residence at Cremo. He requested immediate sentencing. Judge Nibert deferred the sentencing following an investigation of his current status in Kanawha.
- Dennis Cottrill pled not guilty during his arraignment on sexual assault in the third degree, his case is being continued until the next term of court in 2007.
- Josh Haymaker, after the court found him not guilty of a sexual offense by reason of mental illness, requested through his attorney Kevin Harris to be relieved of wearing an ankle monitoring device since he is being supervised 24/7 by his parents. Following lengthy discussion of the 18-year-old's case, Judge Nibert left home confinement in place with further consideration regarding removal of the monitoring device.
Prosecutor Matt Minney contends that Haymaker's sentence was in lieu of ten years jail time, indicating he and Haymaker's attorney cannot agree that monitoring should be removed, although Minney does agree with Haymaker's overall treatment plan.
- A case against Jeffery Neal was continued and a case against Greg Springston was dismissed without prejudice, to be refiled, based on a technical issue.