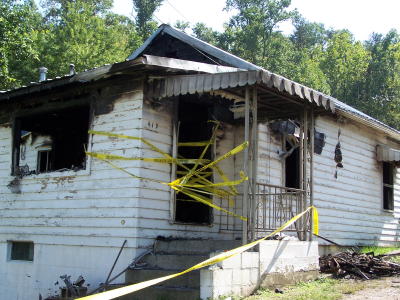 Officials have been sifting through the debris of a
Grantsville house fire that resulted in a fatality
Authorities are still trying to determine what caused a house fire in Grantsville Friday that resulted in the death of an elderly woman.
"We're still investigating what could have caused it," said Grantsville Police Chief J. D. Nicholson.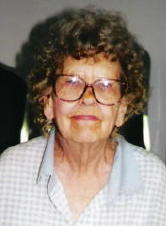 Assistant State Fire Marshal Jason S. Baltic is still looking into the death of ninety-four-year-old Goldie Arthur Richards (left) whose body was discovered in the bathroom of her four-room house in south Grantsville.
Officials have been sifting through the debris, searching for answers.
Richards was apparently trying to escape the blaze, wrapping a blanket around herself, said officials.
The woman had returned from Grantsville's senior center about one hour and 45 minutes before a call was placed to report the fire, the house was fully engulfed when firemen arrived.
Although Richards was known to burn candles at night, the incident happened in the afternoon.
The last victim of a house fire in the county was in January, 2005, when Ivan Hays, 62, died in his motor home on Russett Road, following an explosion and fire, likely from tanks inside the dwelling.
Local residents could not recall other fire deaths in the past 25 years in the community, but there have been numerous cases of people barely escaping.
A private family service will be held Wednesday at Stump Funeral Home in Grantsville.
Memorial donations can be made to the Calhoun County Committee on Aging.
Full obituary under OBITS.
See earlier stories about the fire on the Herald.