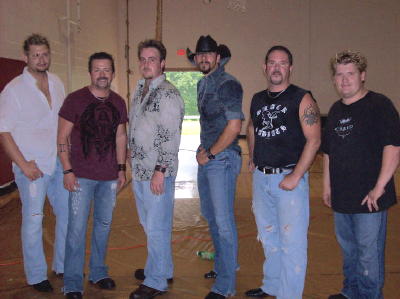 Adam D. Tucker and Custom Built kicked off the school year at Calhoun Middle-High School with country hits from favorite artists like Tim McGraw, Alan Jackson, Tracy Byrd and Toby Keith.
Tucker currently tours across the states, rubbing elbows with country greats Joe Diffie, Charlie Daniels, Miranda Lambert, Trace Adkins, John Berry, and Darryl Worley.
High school and middle school students were treated to the sounds of country music on their first day back.
Tucker entertains but also is concerned for the well being of young people everywhere. His aim is to encourage, motivate and to discourage the use of drugs and alcohol, promoting the importance of having a clear head at all times.
He is a small town boy from Charleston, WV, with strong values that he hopes to instill in others. He encourages young people to dream and believe that they can achieve their dreams using his own personal life as an example.
The concert was sponsored by the Calhoun Co. Tobacco Prevention Coalition, Grantsville Lions Club, and the Calhoun Family Resource Network. Courtesy of  Calhoun High School