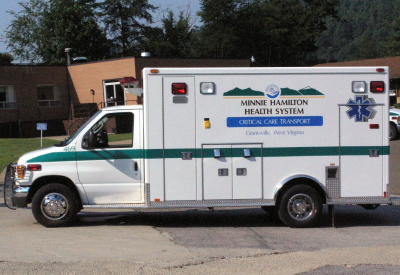 Minnie Hamilton Health Care Center held a dedication of a new Critical Care Transport Ambulance last week.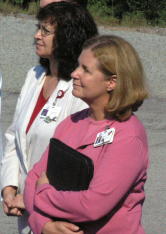 Barbara W. Lay, CEO (pictured right-front) spoke of the need for the new ambulance when Health Net was not able to fly due to weather and situations when it is imperative to transport patients in a timely manner.
Bill Ellis, Director of Emergency Services at Minnie Hamilton reviewed the steps to secure funding for the project.
Funding came from The United States Department of Agriculture, West Virginia Department of Health, West Virginia Health Care Authority and Minnie Hamilton Health Care Center.
Mark King, Director, West Virginia Office of EMS, said it is the fifth ambulance of its type in the State. He commended Minnie Hamilton on taking the steps to secure funding, and the staff taking the special training necessary to provide the service.
King presented Mr. Ellis with a license with the designation of Basic Life Support, Advanced Life Support and Critical Care Transport.
Also speaking were Nancy Bazzle, Director. Office of Community Health Systems and Cindy Dellinger, Assistant General Counsel, West Virginia Health Care Authority.
Currently, Minnie Hamilton Health Care Center has on staff, six Critical Care Transport personnel: Critical Care Nurses; Sandra Ellis, CCT-RN, Kim Houchin, CCT-RN and Melinda Sampson, CCT-RN. Critical Care Paramedics; Bill Ellis, CCT-Paramedic, Phillip DeWeese, CCT-Paramedic and Joshua Johnson, CCT-Paramedic.
Plans are currently underway to train more registered nurses and paramedics for Critical Care Transports.
Rudolph Kevak, MD serves as Emergency Services Medical Director for MHHCC.
Health Net, Kanawha County Emergency Ambulance Authority Critical Care Team members and representatives from Region V EMS Technical Support Network were also on hand at the dedication.
At the conclusion of the dedication, Mr. Ellis declared Unit 469 "10-8" and available for service.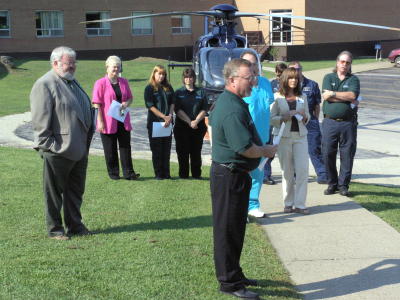 Bill Ellis (front) declares Unit 469 in service