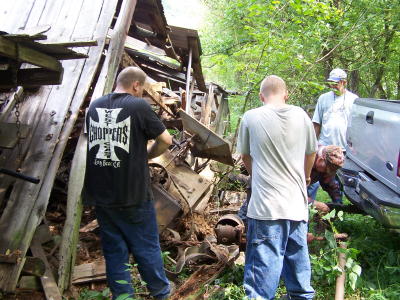 Bell's crew with Chet Dowell retrieve 1500
pound grist mill from collapsed barn ...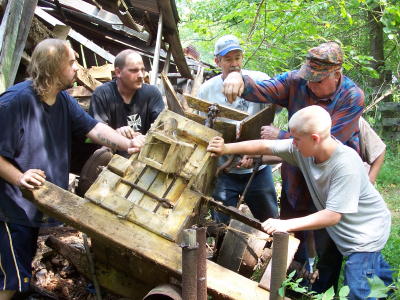 ... which took lots of manual labor getting ready to load ...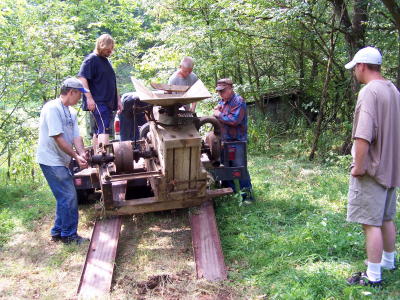 ... with the help of a winch, on a trailer headed for Calhoun Park
Jim Bell has made another acquisition for the county park's Heritage Village, a full-fledged grist mill, not unlike the dozens used in the county starting in the 19th century.
At one time, nearly every community had its own mill, with about 50 being listed in a Herald story under People, Humor and History.
See CALHOUN'S EARLY GRIST MILLS - A Who's Who List
The mill, which weighs about 1500 pounds, was donated by Michael Dowell, son of Chet and Nellie Dowell of Rowels Run.
"It wasn't any too soon, " said Dowell, since a recent wind storm knocked down a barn in which the mill was housed.
Dowell said the mill belonged to Ershel Husk, whose family of origin sprung from the Husk Ridge near the Village of Hur, often written about in the Herald.
"It took some pretty tough guys to get the mill ready to load on a trailer," Bell said, before using a winch.
Charley Starcher's blacksmith shop from Hur now resides at the park and Bell is planning to move the Ahab Stemple log cabin from the community.