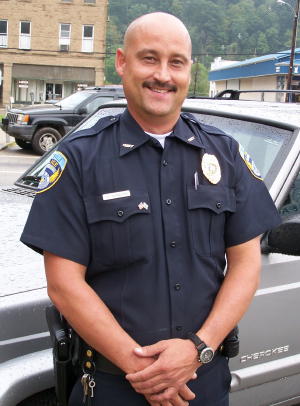 Grantsville's new Chief of Police says "We're going to work with the community while enforcing the law."
J. D. Nicholson, a native of Roane County, says "I've always been a small town person, and Grantsville looks really good" after spending two years in Iraq, Kuwait and Afghanistan as a civilian engineer.
The former Clendenin police officer was also a security officer with the University of Charleston, before going abroad.
Nicholson said he expects to start some programs to engage the young people in Grantsville. "It's something I really enjoy doing," he said.
"I've had a lot of life experiences that will help me be fair but firm as an officer," he concluded.
Mayor Wilbert Kerby said "We're hopeful our citizens will welcome the new chief, as the council continues to understand the importance of having police protection in our town."
Nicholson is the third new police officer to the Calhoun community, with new county deputies Justin Metheney and Craig Gherke already on duty.