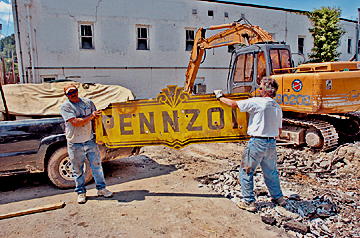 Mike Carpenter and Tim Cunningham, both of St. Marys, carry
a Pennzoil sign that was found in a pool of mud at a Grantsville
landmark building that recently was razed and has been the source
of controversy by some people who thought it should remain standing.
But some people from the area, such as Cunningham, have taken
advantage of the free stone and other items left at the site.
Photo by Tom Hindman
By Jake Stump
Charleston Daily Mail Staff
dailymail.com
Monday August 28, 2006
GRANTSVILLE -- This Calhoun County town of 550 people may be getting a few new businesses this fall. But several residents believe they shouldn't come at the expense of a town landmark.
Earlier this month, crews razed a High Street building that was constructed by Spanish immigrant Joe Janerio during the Great Depression.
Janerio had built many of the town's structures using a unique, native cut stone, according to Bob Weaver, editor of the online county publication The Hur Herald.
The building first housed a service station called Stump's Auto Service. Most recently, it has served as office space for State Farm Insurance and Life Guard Medical Supply.
Frank Wilson, who's owned the property for eight years, said the structure was in such disrepair that it needed to be razed.
Wilson will replace it with a two-story building. The first level will include four or five commercial/office spaces, and two large apartments will be available on the top floor.
"I see it as a good thing," Wilson said. "We're trying to bring new businesses to Grantsville, which it desperately needs. People didn't want to see it go, but it was in total disrepair that I had concern from my tenants."
Wilson said rebuilding was the most cost-efficient solution. Making repairs would have cost at least $30,000 -- of which $10,000 was needed just to fix the heating system, Wilson said.
"The building would've come down in five years, anyway," he said.
Residents showed such a connection to the building that many scavenged the demolition site, making off with cut stone and everything else not nailed down.
Wilson decided to put out a sign reading, "Free Stone."
Some folks even came from out of town for the treasures, like Tim Cunningham and Mike Carpenter, who drove an hour from St. Marys.
Cunningham had gotten got four pickup truck loads of stone to go toward building a fireplace in his cabin. He expected to head back for more.
His friend, Carpenter, rode with him just to grab an old neon gas station sign.
Carpenter said he's collected thousands of neon signs over 30 years and he keeps most of them in his 4,500-square-foot garage.
"I'd like to clean it up and try to save it," he said about his newfound sign. "But it's too far from repair. If it hadn't been in water, it would be a really nice one. It's something great to find anyway. It's still unique to me."
Construction of the new building is expected to finish by November. State Farm and the medical supply company will resume operations there while Wilson seeks other tenants.
Workers cleaning up the site last week said several residents appeared outraged because they thought the building was made of a unique stone.
But the workers said most structures still standing in Grantsville are constructed of the same materials.
Janerio, the Spanish immigrant, helped construct dozens of stone walls, abutments, culverts and houses throughout Calhoun County, according to The Hur Herald.
Weaver called the former Stump garage Janerio's best work.
He had also constructed the Holbert House in Big Bend.
Janerio also built Grantsville's retaining walls and a bridge at Leafbank.
Local legend has it that Janerio embarked on stone construction projects as penance to his father for not becoming a priest.
Janerio was killed in a car accident in North Carolina in the late 1930s.
Contact writer Jake Stump at 304-348-4842.