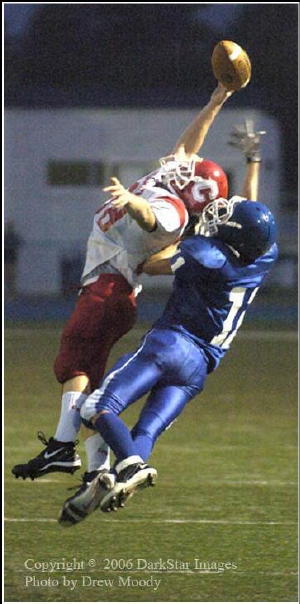 By Gaylen Duskey
If Calhoun needed an early season test of strength, Gilmer County wasn't it. The Red Devils opened the season with an easy 53-14 victory over the home standing Titans Friday night.
Calhoun scored early (on the opening kickoff) and often (20 points in the first six minutes) en route to the lopsided victory.
Jeff Goodrich started the game with a bang by darting 85 yards with the opening kickoff . and the rout was on.
The Red Devils scored the next time they got the ball after Gilmer fumbled away the ensuing kickoff. Caleb Hart had the honors with a 16-yard run.
Following that the Red Devils added touchdowns from Roman Rader (a 14-yard pass from Matt Houchin), Caleb Ball (a 32-yard pass from Houchin), Hart (a 26-yard run), Goodrich (a six-yard run), Randy Fluharty (a four-yard run) and Nick Stevens (a 10-yard run).
For Gilmer Stan Fox, the Titans outstanding quarterback, had runs of 21 and one yard.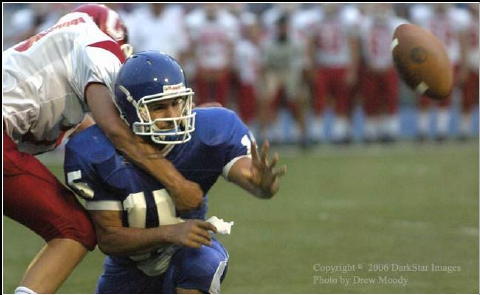 Overall Calhoun had 475 yards (408 rushing) total offense and 25 first downs compared to 206 yards total offense and nine first downs for the Titans, although it must be noted about half of the total yardage came against the Calhoun reserves.
How dominant were the Red Devils?
So much so that the reserves outscored the Titans 12-6 in mop up time at the end.
Hart led the way for the Red Devils with 13 carries for 167 yards while Fluharty had 110 yards on seven carries despite playing only a little more than half of the fourth quarter. Goodrich logged 85 yards on the 16 carries he attempted.
Chance Hardway led the receiving corps with three catches for 34 yards. While the Red Devils were impressive there were still a few chinks in the armor.
On pass defense for instance Gilmer's Fox may have had more than his six completions had he had a more veteran set of receivers.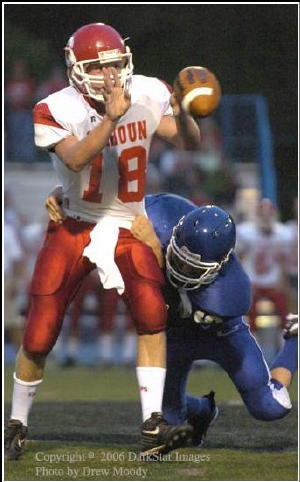 And penalties, a Calhoun bugaboo were again a problem as the Red Devils committed 12 for 76 yards. The biggest penalty probably was an offsetting penalty (both Gilmer and Calhoun were flagged), which negated a 42-yard run by Hart. Had he had those yards he would have eclipsed the 200-barrier in his first game as a running back at CCHS.
With the win Calhoun goes to 1-0 heading into next Friday night's game at Ritchie County, a 40-0 loser to St. Marys in its season opening game.
Gilmer, now 0-1, is home to Pocahontas County next Friday.
NOTE: These and other photos are available
for sale via The Mountain Sun online newspaper.
Email drew@wvmountainsun.com
for more information or see wvmountainsun.com