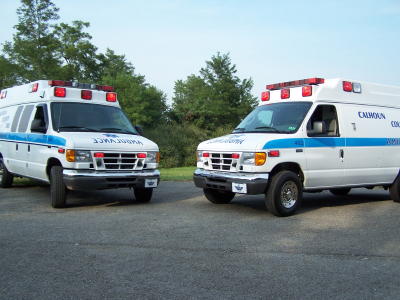 Calhoun EMS has placed two new ambulances in service
Calhoun Emergency Services has two new ambulances.
Both have been placed in service, "Not any too soon," said Director Josh Johnson.
Johnson said the total cost of the ambulances was $93,500, with one being provided by a grant from the WV Health Care Authority and the second by USDA Rural Development.
The ambulances were un-equipped, said Johnson, but other funds were used, including $10,000 from the governor's office and a donation of $2,500 from Calhoun Banks.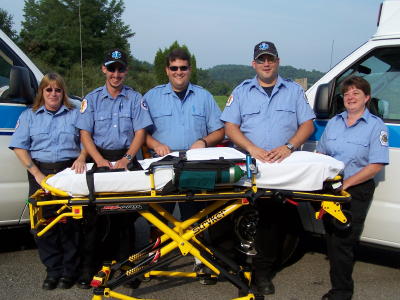 EMS crew displays new heavy-duty cot (L to R) Janet Starcher,
Mike Little, Josh Johnson (EMS Director), Craig Gherke, Kathy Wood
A new $3,600 multi-level cot was purchased for one of the ambulances.
"We're still in need of a four-wheel drive ambulance," Johnson said, "But for now, we're very grateful for the new ambulances.
He indicated the old ambulances will be kept for back-up, at least for a while.