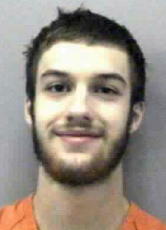 A Braxton County student at WVU has been arrested for making a bomb.

He is a West Virginia University chemistry major who told police he built a bomb for research.

State Police charged 20-year-old Eli Stephen Tyo of Frametown with one count of wanton endangerment involving destructive devices and one count of storage and possession of explosive material, both felonies.

Thirty people were evacuated from two buildings at Sterling Ridge Apartments on August 9th after a cleaning crew found bottles of what appeared to be chemicals in an apartment.

Tyo was being held last night at North Central Regional Jail on $100,000 bond. His trial is scheduled for September 1.

Tyo faces one to ten years in prison for each charge if he is convicted.

The FBI has closed its investigation of suspicious bottles that prompted the evacuation of Huntington airport terminal.

Additional tests confirmed the bottles contained only water and a soap product.

The terminal at Tri-State Airport was shut down for more than nine hours on August 17th after two bottles of liquid found in Rima Qayyum's carry-on luggage initially tested and retested positive for explosives residue.

The 28-year-old Barboursville resident, who was born in Pakistan, was traveling to Michigan to see her parents. She later drove to Michigan.