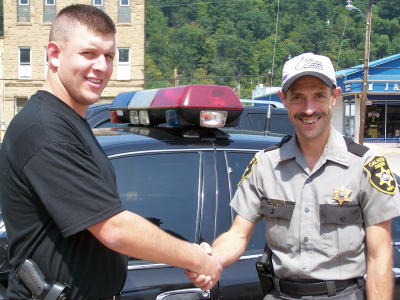 Sheriff Carl Ballengee (R) welcomes Deputy
Metheney (L) to the Sheriff's Department
Calhoun County has one of two new deputy sheriffs on duty this week, according to Sheriff Carl Ballengee.
Justin Metheney, formerly of Arnoldsburg, has been hired by the Calhoun Sheriff's Department, in addition to Craig Gherke, who is expected to start his new job next week.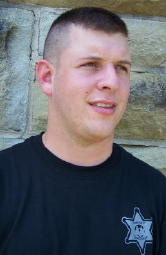 "I'm looking forward to being able to serve my county," said Metheney, (pictured left) who is expecting to enter the State Police Academy next Spring.
Sheriff Ballengee said he is pleased to improve law enforcement coverage to the county.
Metheney, a 2003 graduate of Calhoun High School, has been employed as a correctional officer at Central Regional Jail for over a year. He is a seven year member of the Arnoldsburg Volunteer Fire Department and also belongs to the Grantsville VFD.
He is a graduate of the WV Department of Corrections basic training program.
Matheney is the son of Rev. and Mrs. Rick Metheney of Pleasant Hill.