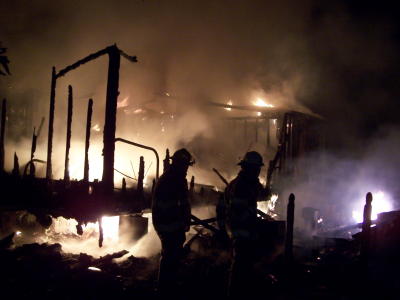 Harold family escapes but lose everything on Camp Run
Two early morning fires Saturday, one in Calhoun and the other in Roane County, has reportedly resulted in at least one fatality in Roane. Three people were reported in that structure.
Authorities at 5 a.m. could not confirm additional deaths in a fire on Parkersburg Rd. (Rt. 14), not far from Spencer.
The Spencer-Roane VFD requested the State Fire Marshall to come to the scene.
Fire completely destroyed the Larry Harold residence on Camp Run at 4 a.m., a side road off Mud Fork near Stinson.
Four members of the Harold family were alerted by a smoke detector, and were able to escape the structure with the clothes on their back. They lost everything.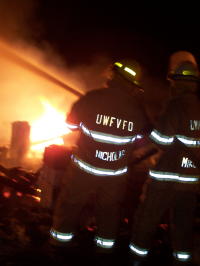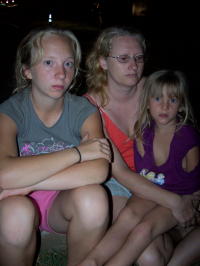 Firemen from two departments douse structure
as Donna Harold and her two daughters look on
"It happened so fast, I had just given my five-year-old daughter some medicine," said Donna Harold. "I just can't believe it."
Ms. Harold said her 12-year-old and 5-year-old daughters were not injured. A 21-year-old nephew was also in the residence, while Harold's 12-year-old son was visiting neighbors.
Larry Harold was returning from his job at Fola Coal, coming up Mud Fork to discover the flames.
"My adrenaline started pumping when I saw it was our house. I've worked so hard on the place, and now it's gone, including my dad's (the late Arnold Harold) musical instruments," along with other family keepsakes.
The modular structure was fully-engulfed when the Upper West Fork VFD arrived. The Arnoldsburg VFD and Calhoun EMS also responded.
Individuals who might want to assist the Harold family, may contact her mother, Retha Miller 304-765-2640 or a neighbor, Mel Simms at 304-655-8498.