Submitted By Sarah Gould

Calhoun County High School seniors Shaina Cain (right) and Darris Hupp (not pictured) represented Calhoun County at the 2001 West Virginia Governor's Honors Academy (GHA). They were two of 170 top West Virginia high school seniors participating in the three-week intensive residential program at West Virginia University in Morgantown. Students attended classes during the day and recreational and educational programs in the evenings and on weekends. Cain, of Big Bend, is shown above with friends Crystal Antes (left) of Williamstown High School and Amanda Stowers of Hamlin High School. GHA concludes Sunday, June 29.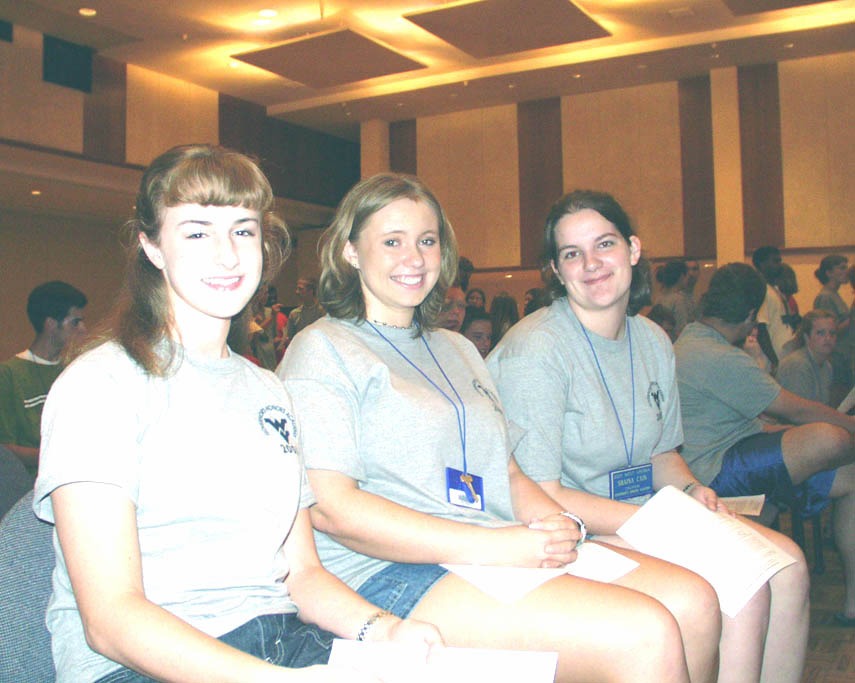 Shaina Cain and friends at Academy
MORGANTOWN, WV, Some of West Virginia's brightest high school seniors are headed to West Virginia University this month to tackle subjects ranging from manipulating DNA to understanding Japanese culture and history -- just part of the many activities planned for the 2001 West Virginia Governor's Honors Academy (GHA).
State Superintendent of Schools David Stewart will visit WVU Sunday, July 8, to welcome the 170 high school students at the GHA opening ceremony at 1:30 p.m. in the Mountainlair Ballrooms.
Students participating in the Academy will remain on campus through July 29 for three weeks of intensive study, extracurricular activities, innovative speakers and a trip to Washington, D.C. They will stay in Stalnaker Residence Hall on WVU's Downtown Campus.
"We're very happy to have these students join us here on campus," said Keith Garbutt, director of the WVU Honors Program and dean of GHA. "We have some great, intellectually challenging activities planned and a couple of wonderful trips. We hope the students will leave here with their view of the world greatly enhanced."
At least two students from each of West Virginia's 55 counties are chosen for GHA. Additional students are selected from a general pool. Included in this year's program will be four Russian exchange students, a Russian instructor and a Japanese instructor.
Students attending the Governor's Honors Academy will take classes such as "King Tut's Egypt," "How Far Will Bent Wood Bend?," "Writing West Virginia: Grandmothers, Diaries, and Big Books" and "Chemistry: Science is Not for Spectators." Instructors will be outstanding college faculty and high school teachers from around the state.
In the evenings and on weekends, students will enjoy cultural and recreational programs, including a picnic sponsored WVU President David C. Hardesty Jr. and his wife, Susan; a math program sponsored by actor Leslie Nielson; presentations by West Virginia singer/songwriter Kate Long and Ron Sowell, manager of Mountain Stage; a West Virginia Public Theatre production of Anything Goes; swing dancing lessons; and a trip to Kennywood amusement park.
Participants will also visit various WVU departments and meet with University faculty. Several speakers will also address the students, with topics varying from the Olympics to the study of the black bear.
WVU and the state Department of Education are sponsoring the Academy, which began in 1984. WVU has hosted the event for the past four years.
For more information about events or to schedule interviews, call the WVU Honors Program Office at 304-293-2100. -WVU-