Many people in Calhoun County and the area are community minded, generous and dedicated. The Hur Herald staff would like to recognize those individuals and groups for all they do. We ask our readers to submit names of individuals or groups, along with a brief description of why they are Shining Stars.
Submit your entries to bob@hurherald.com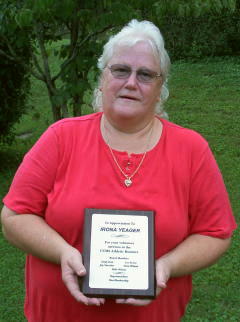 A shining star goes to Irona Yeager who was recently honored for her dedication and service to the Calhoun Middle School Boosters. Irona has given countless hours over the years working hard in her efforts to support young athletes and their teams.
A plaque presented by Calhoun County Board of Education is inscribed "In appreciation to Irona Yeager for your volunteer services to the CCMS Athletic Boosters" - and includes the names of board members, Cindy Dale, Joy Starcher, Lee Evans, Steve Whited and Mike Wilson, as well as Superintendent Ron Blankenship.
Below is an appeal, urging others to volunteer time to CMS Boosters.
The Calhoun County Middle School Athletic Boosters will be holding our annual planning meeting for the upcoming school year on August 21st at 6 p.m. in the CM-HS Commons Area. Officers will be elected and we will be discussing issues pertaining to fall and winter sports.
It is essential that we illicit additional support from all middle school parents, grandparents and guardians of our athletes. Our children depend on the boosters for many of their athletic necessities and without added parental involvement, we may not be able to continue to provide the essentials we have in recent years.
CMS Boosters have, in the last three years, purchased new uniforms, equipment, balls, etc. for every middle school sport. We cannot continue at the present level with 5 to 6 parents carrying the majority of the work load.
In addition, we would like to extend our sincere appreciation to all who donated to the CMS wrestling mat. The goal has been met and our wrestlers will, for the first time, have a middle school mat this winter. CMS Boosters have raised $40,000 plus each of the past two years and the money in its entirety has been used for our athletes.
Calhoun County Middle School Athletic Boosters invite and encourage any interested persons to attend our meeting in support of our wonderful group of young athletes. Any questions or comments, please feel free to contact me at 354-7024.
Sincerely,
Irona Yeager, President
Calhoun County Middle School Athletic Boosters