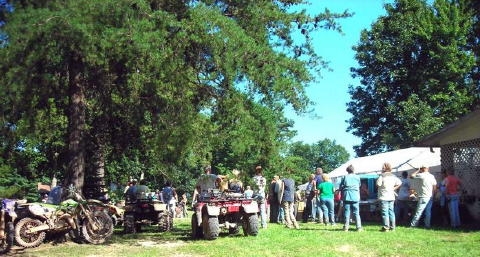 There were 159 registered riders for the 40+ mile trail
Submitted by Lisa Walker
The Delmer Hickman Memorial Poker Run was held Saturday, August 5, beginning and ending at Nobe, West Virginia.
Volunteer workers scrambled to prepare the tables and tents. Grilled hot dogs, cold drinks and snacks were soon ready as riders began arriving early to begin their country trail. First place, 30% - $477 went to John Gumm, Grantsville, WV. Second place, 10% - $159 went to Lisa Duskey, Calhoun County. Third place, 10% - $159 went to Krystal Metz, Brohard, WV.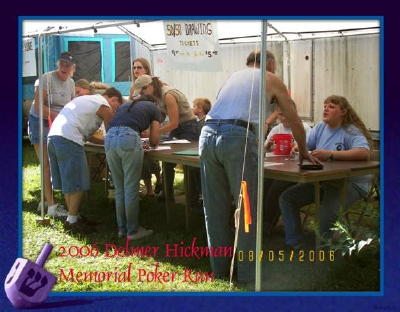 Jerry Riddle of Big Bend, WV was the winner of the 50/50 Drawing
Several door prizes were won including a biker's helmet donated by Last Chance Cycles.
Lots of special made t-shirts and caps were sold, with several left and still available.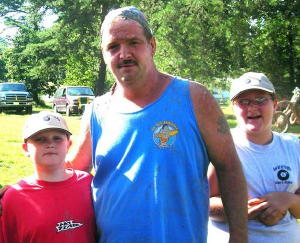 Delmer Ray Hickman, Jr. and children Nick and Nancy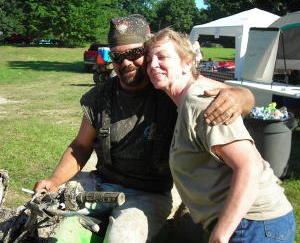 As the crowd dispersed "good-byes" were said
The Hickmans extend thanks to donors, supporters, volunteer workers, advertisers and property owners at Nobe. Most of all to the riders who have continued to support this annual event and those who participated this year for the first time. Welcome and thank you!
The proceeds from the poker run of $1,152.73 went to "The Danny and Luke Hickman Memorial Scholarship Fund". The fund is an annual $500 award given each year to a Calhoun County High School graduate to be applied toward continuing their education.