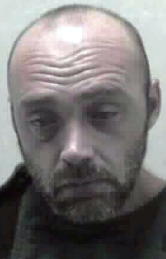 Police arrested Calhoun resident Gary Lee Nicholson, 38, Sunday morning after he had eluded authorities in Calhoun for several days.

He is being charged with eluding and with possession with intent to deliver a controlled substance, but may be facing additional charges.

Nicholson was facing larceny related charges, and had failed to appear in court.

He was indicted by a Calhoun Grand Jury for allegedly receiving stolen property.

Calhoun Sheriff Carl Ballengee said Nicholson was captured when he exited a house in the Russett area, he offered no resistance.

Authorities indicated Nicholson has been suffering for a long-time problem with drug addiction.

State Police officers Doug Starcher, Jeff Smith and Bob Medford, accompanied by his canine, and Sheriff Ballengee with his canine, Kahn, went to the scene.

Nicholson reportedly did cause a problem when he was being admitted to Central Regional Jail, striking and injuring at least two correctional officers. He will be charged with battery.

Nicholson was the object of a police search near the Calhoun County Park a few days ago, reportedly fleeing into the woods, and was the subject of a search in 2003 when he fled authorities.