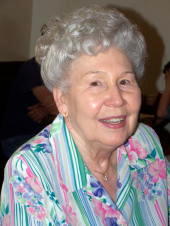 Yvonne Whipkey Elliott Beck returned to Calhoun to attend the White Pine School reunion and visit with old friends.

The Homosassa, Florida resident attended the old school in the 1940s, she later marryied Jack Elliott and went to work at the Calhoun County Bank in 1969, where she became the cashier.

"I loved banking," she said. Yvonne left the Calhoun Bank in 1987, but worked for other banking organizations.

"It was great fun seeing some of my old White Pine friends," although her visiting was somewhat restricted by some health problems.

She grew up on Road Fork, a short distance from the old school, the daughter of the late Issac and Lottie Burrows Whipkey.

She has three brothers, all living, Raymond and Dane Whipkey of Gilmer County and Grey of Atlanta, Georgia.