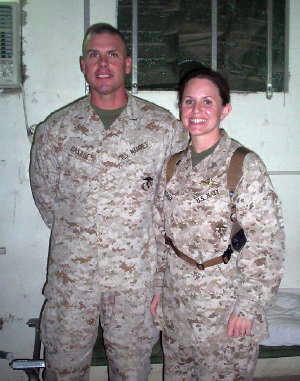 Among the troops currently serving in Iraq are Laurie and Pete Basabe.
The Basabes, who reside in Oceanside, California, are both stationed in Fallujah, Laurie at Camp Fallujah Surgical Center and Pete at Fallujah Airport.
Lt. Laurie Ludwig Basabe USN is the daughter of Diane Ludwig of Newark and Mark Ludwig of Newark, and the granddaughter of Pat and Burrhead Ludwig of Elizabeth and the late Okey and Leona Bailes formerly of Parkersburg. She is a 1991 graduate of Wirt County High, and a graduate of WVU-Parkersburg and George Mason University.
WO2 Pete Basabe USMC is the son of Debbie and Ray Bailey of Bellingham, Washington.
This is Laurie's first tour in Iraq and Pete's third.