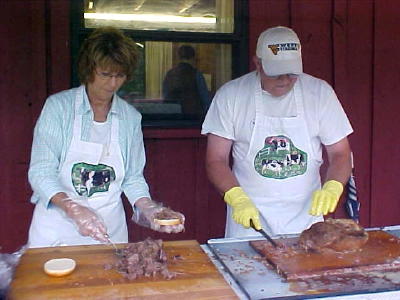 The Mt. Zion Community will be celebrating the 47th annual Ox Roast today at the Mt. Zion Community Park. The public is invited to attend and enjoy the day filled with great food, an auction, music and county fair exhibits.
Thousands have attended the event over the years, often as a homecoming to Sunny Cal, said Ox Master David Weaver, who carefully seasons and wraps the meat (with his helpers) and places it in the pit for mouth-watering preparation.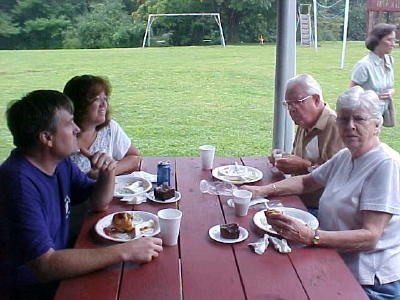 Ox Master David Weaver (left) encourages the
community and visitors to attend the annual event
"We invite all county residents to the roast, and hope that folks from out of state come back," said Weaver.
"We appreciate your attendance," said Weaver. "The park and facilities are maintained by volunteer efforts," with the fundraiser helping the cause.
The park was a project of a Community Action group, which was responsible for bringing public water to the community and public housing at Calhoun Homes.
Serving will begin at 11 a.m. The menu includes, pit-roasted beef sandwich, baked beans, cole slaw, tomatoes, cake and a drink for $5. Individual pit-roasted beef sandwiches are $3. To go orders are welcome!
Items for the county fair exhibits should be brought to the park on Friday evening or before 10 a.m. on Saturday. Items that may be exhibited are fruit, vegetables, canned goods, baked goods, and any craft items or woodcraft.
After judging, red and white ribbon-winning items will be priced and sold throughout the day. Blue ribbon items will be auctioned at 5 p.m. In addition to the above any additional baked goods that may be sold throughout the day, such as cookies, cakes, fruit pies, bread, etc. will be appreciated.
The park and facilities are maintained by volunteer efforts. All proceeds are used for the maintenance and improvements of your community park.