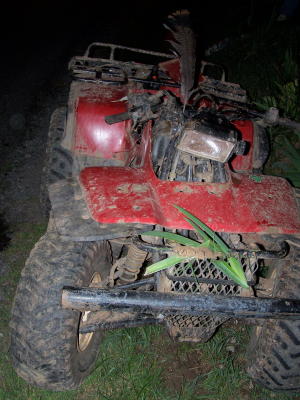 ATV wrecked on Nobe Road about two
miles off Rt. 16, injuring a local man
A second ATV accident in Calhoun today sent a Five Forks man to the hospital, reportedly with head injuries.
Daniel Johnson, 20, lost control of his four-wheeler on Nobe Road about 10 p.m., injuring himself and a male youth who was a passenger. The youth was treated at the scene.
Johnson was taken to Minnie Hamilton Health Care Center, and was later life-flighted from Pleasant Hill Elementary School to Charleston Area Medical Center.
MHHCC was experiencing too much fog for the chopper to land at Grantsville.
Johnson's sister, Amanda, was the victim of an ATV accident in 2004 which happened during an ATV Poker Run.
Calhoun EMS dispatched two ambulances to the scene, with the Grantsville VFD.
Trooper 1st Class Jeff Hunt was investigating the accident.
Emergency services responded to an ATV accident on Russett Road earlier Friday.
A four-wheeler driven by Scott Roher, 29, left the highway, went over an embankment and struck a tree, reportedly causing serious internal injuries.
Charleston Area Medical Center said Roher was still under evaluation in ICU early Saturday morning.
(See earlier story on Herald 8/4/06)