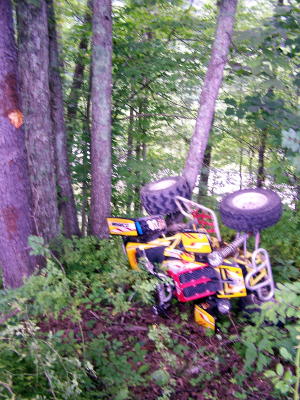 A Calhoun man was injured at 9:15 a.m. today when his ATV left Rt. 7, went over a steep embankment and struck a tree.
Scott Roher, 29, was taken to Minnie Hamilton Health Care Center for treatment of what was described as internal chest and abdominal injuries.
HealthNet attempted to fly to Grantsville, but after a long delay by weather, he was transfered by ambulance.
The accident happened in an area near the old Levering's store and the junction of Sycamore Rd., known for being narrow, having virtually no berm and a steep descent at the junction of Sycamore Creek and the Little Kanawha River.
Former Sheriff Allen Parsons advised family members of the accident.
Neither of Calhoun's three State Police officers were available, nor was Sheriff Carl Ballengee who was enroute to Ripley. A trooper from Spencer responded to the call about two hours after the accident, while volunteers remained at the scene.
Sheriff Ballengee is in the process of hiring two deputies, recently having seven applicants take a test for the position.