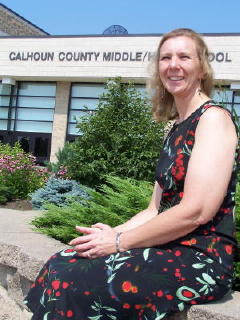 After two delays, Calhoun Middle-High School has a new principal.
The Calhoun Board of Education hired current assistant principal Karen Kirby at a meeting held July 17th.
"I'm really looking forward to the challenge," Kirby said.
Kirby, who holds a professional administrative leadership certificate from Salem International University, holds a masters degree from the WV College of Graduate Studies, and attended Glenville State College and WV Institute of Technology. She has been associated with the Calhoun school system since 1984.
Involved in numerous professional activities and groups, she was Calhoun's Teacher of the Year in 2004.
She is replacing Mike Offutt, who has accepted a position with Roane County Schools.