By Drew Moody
For the Hur Herald
drewmoody@verizon.net

A Gilmer County man hit the 'triple crown' of drunk driving, and is facing his third DUI offense. In addition he's charged with domestic battery, driving after revocation and domestic assault.

SrTr R.P. Smith and Deputy Casey Jones responded to a domestic call at a county residence last Thursday, July 28. (address withheld)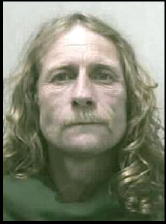 Officers stopped Delbert L. King of Shock, age 41, (left) fleeing the scene in an automobile registered to the victim.
Two victims at the scene, one a minor, told police King had slapped the minor at the residence.
He then apparently threatened to run over one of the victim's and may have attempted to do so.
King is currently being held in the Central Regional Jail in lieu of a $35,000 bond.
If convicted of all charges he faces more than four years behind bars.
A preliminary hearing for King has been scheduled for Thursday at 1 p.m.