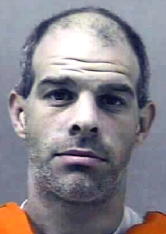 A Leroy, Jackson County man has been arrested for the beating death of a Cross Lanes woman whose body was discovered near the Roane County line near Frozencamp, just of US 33.

Dale Shawnessy O'Neil (left) a registered sex offender, had just been released from jail. Leroy is a short distance from Reedy in Roane County.

The body of 43-year-old Kathleen Adkins was discovered last Friday on Big Run, near a logging site.

Jackson County Sheriff Mike Bright says O'Neil was just released from jail last Tuesday after being indicted by the Jackson County grand jury on charges including failure to register as a sex offender.

Bright says O'Neil took a bus from the South Central Regional Jail to downtown Charleston and then apparently asked Adkins for a ride to Jackson County.

An autopsy revealed she suffered fatal wounds after being beaten in the head.

Jackson County residents spotted O'Neil driving what later was found to be Adkins' car.

O'Neil was arrested today at his brother's home in Kanawha County. He's being held in South Central Regional Jail without bail.