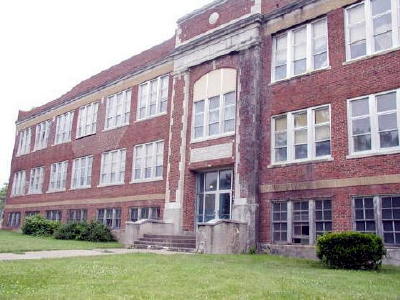 Alumni opinion in Brookfield, Missouri ranges from wanting to have the property leveled due to safety concerns to having it restored and made into a museum, but the future of the school closed in 1989 remains a mystery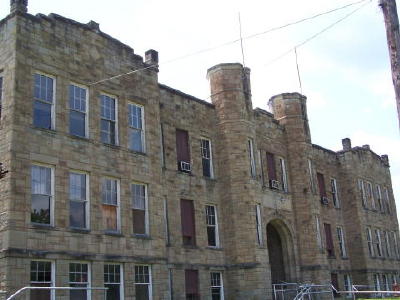 Closed since 1998, Calhoun County High School, the gym and vocational building are rapidly deteriorating, becoming a hazard, although locals believe the cut stone in the school building is salvageable
By Bob Weaver
It's a tale of two old high schools, both sold on eBay at auction and purchased by a Maryland physician.
Both schools have been closed for several years and both are deteriorating.
Calhoun County High School in Grantsville, West Virginia and Brookfield High School in Linn County, Missouri were purchased on eBay auctions by Dr. Charles Folashade a Maryland physician.
His intentions for the property remain a mystery, but he has told Calhoun locals he wants to put the 85-year-old high school to good use, although it has been reported the investor has been trying to re-sell the Calhoun school on eBay, with little success.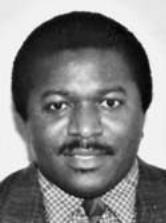 Dr. Folashade has suggested a number of uses for the facility, like housing, a hunting lodge or school for nursing students.
"We have more nursing candidates than we can handle in this country," Dr. Folashade said, "Here in Salisbury (Maryland) we have more nursing candidates than we can handle."
Dr. Folashade told Grantsville councilman Gaylen Duskey on June 1 that he hoped to have crews on hand within the next few days to start work on the roof of the old high school. "We need to stop the deterioration," he said, and then "begin the restoration."
A short time later the property reportedly appeared for sale on eBay.
Calhoun High School was abandoned in 1998, and sold on eBay for $160,000 in July 2005.
The old school has had two other owners since its closure. Shirley Fitzwater purchased it at a school board auction and then sold it to former Calhoun resident Hagan Richards, who jointly owned the structure with his son, Dan, a California real estate developer.
Richards attempted to put together a funding package to develop the building for housing, but indicated they lacked at least $1,000,000 for the project.