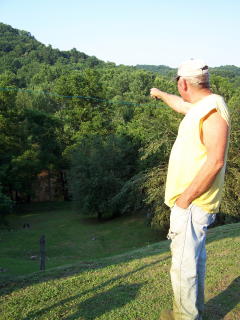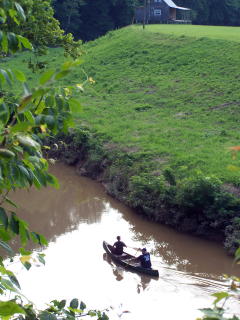 The rescue began after a Russett resident (left) reported the mournful bark of a dog. Sheriff Carl Ballengee and Captain Steve Heath of the Grantsville VFD canoe down the Little Kanawha to look for the animal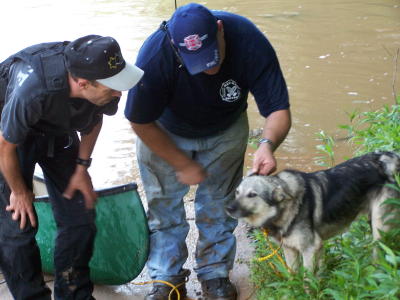 Ballengee and Heath bring the grateful animal to shore
July 8, 2006
Russett resident Foster Husk said a dog had been barking for at least two days across the Little Kanawha River from his house.
"It was making that mournful sound a dog makes when it or a person it's with needs help," Husk said, "So we decided to call for help, since the river was up."
Calhoun Sheriff Carl Ballengee and Captain Steve Heath of the Grantsville VFD launched a canoe above Russett, floating it downstream where the dog was heard.
After walking into the thick woods across the river, Ballangee and Heath found the dog, apparently in distress and suffering from malnutrition.
"It was really happy to see us," said Ballengee, who indicated it appeared to be afraid of crossing the swollen river.
He and Heath loaded the grateful animal in the canoe, and floated on down river to the boat dock to meet with members of the fire department.
Despite needing food, "The dog seems to be in really good shape," said Heath, who took the animal to his house to begin feeding it slowly, so it wouldn't get sick.
"It was a good ending," said Sheriff Ballengee.