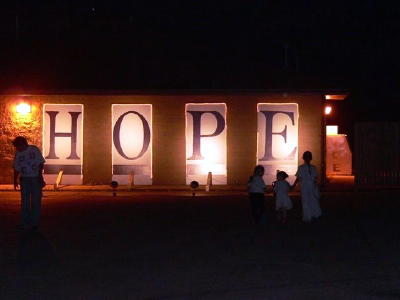 Photo courtesy of Anita Vannoy
Anita Vannoy said "We would be remiss if we didn't think about Rev. Harry Siers," during this year's Relay for Life.
Harry was a ball of fire for several years with his Enon Church Relay for Life group, helping to raise money to fight cancer.
Full of hope.
You can still hear his cheerful voice, urging folks to buy a hot dog or encouraging them to give of themselves, not forgetting his passionate religious message.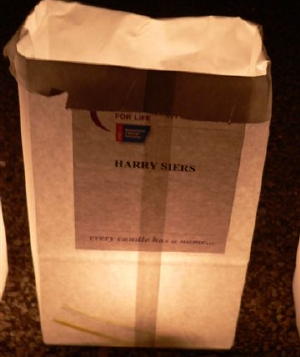 Luminaria lit in memory of Harry
Photo courtesy of Anita Vannoy
It was a turn of events since last year's Relay, with Harry becoming ill with a fast-growing cancer and passing on very quickly.
With his death, there is a vacancy on the "warming bench," someone who will carry-on with his joyful spirit, particularly in our tiny niche of the world with few volunteers to make life a little better for us all.
Luminarias were also lit in 'honor and memory' of the following people (with some last names listed first)
Adolfson Jean, Allen Joan, Bremar Teresa, Butcher Rolland, Cline Pat A., Collins Florence (Minney), Collins Lyle Dayton, Conrad Dorothea Herron, Edwards Hayward & Peggy, Edwards John, Edwards Oliver & Moxy, Furr John & Irene, Furr Johnnie, Furr Vivian, Fury William Joseph.
Geiger Janet, Gerwig Orville, Gherke Ardene, Gregory Paul Pearson, Harbert Goldie, Helmick Bobby Lee, Huff Joan, Jack Steve, Jaenecke Don, James Clavey, James Jack, James Lyle, James Rhoda, Jones Harley, Kennedy Marvin, Kennedy Ronald, Koel Arline J., Kuhl Bernard, Lockard Gaytha, Longfellow Hubert, Lothes Neil, Massey Rose Ella, Massey Sr. Samuel, Moore Evelyn, Nicholson Frances.
Nicholson Mary Frances, Rauch Rita, Reed Brooks & Esta, Riffle William F., Saboley Mary A., Sands Fern, Scott Vonda, Shock James, Smarr Garnett, Smith Garnett K., Smith Ralph, Snead Sarah Yvonne Sponaugle David, Sponaugle Elaine, Sumpter Oren, Talkington Cloyd "Tinker", Taylor Virgil, Tice Willa Lee, Turner Jearl, Turner Ruth, Vanhorn Darlene, Vanluit Ada Lee (Furr), Welch Robert, Welch William F., Williamson Helma (Burlie) Williamson Sr. Clarence A., Wilmoth Steve, Workman Pearl, Wright Elsie Park, Yoak Arvin.
Grandpa Allman, Johnie Allman, Barbara Anderson, Ronnie Auxier, Emery Bailey, Audrey Baker, Patricia Baker, Papaw Dale Barker, Carolina Barr, Karen Bess, Lula M. Boggs, Donna Brannon, Genevieve Brannon, Orval Brannon, Teresa Bremar, Dorothy Muncy Brinegar, Tina Brinson, Diane Brown, Eleanor Buck.
Eugene Buck, Virginia Buck, Bill Burdette, Edith M. Burdette, Glenna Burroughs, Kathryn Burrows, Eris Cain, Ollie Cain, Pam Cain, William Callihan, Arlen Carpenter, Commodore Carpenter, Kenneth Carpenter Sr., Mr. & Mrs. Harold Collins, Tom Collins, Fran Cottle, Tom Cottle, Cathy Craddock, Greta Crawford, Arnell Wilson Davis, Pam Davis, Jennifer Dennison, Leona Deuley, Mabyn Deweese, G.O. Dewitt.
Eloise Divers, Wandra Drake, Carlene Dunmore, Phyllis Dye, Dain Edwards, Patty Eisley, Jean Emerson, Phyllis Evans, Pauline Ferrell, Kenneth E. Fisher, Ruth N. Fisher, Faye Fitzwater, Betty Earl Fluharty, Donna & Joe Frame, Velma Frame, Franck Frederick, Virgie Frederick, June Wilson Freed, Evelyn Fulks, Cokey Gainer, Delbert Gainer, Tom Gainer, Papaw Leonard Gheen, Ardene Gherke.
Barbara Godfrey, Evelyn Godfrey, Travis Godfrey, Betsy Graff, Owen Graff, Lewis Greathouse, Lydia Greathouse, Simon Greathouse, William Greathouse, Phyllis S. Groves, Carr (Pop) Gunn, Don Gunn, Vonda Gunn, Dana Hall, Jennifer Hall, Joshua Hall, Victor Hamilton, Craig Hamrick, Mildred Hannah, Donna Yoak Hardman, Alice Vannoy Hargis, Betty Harris, Kasey Harris, Emegean Hartshorn.
Carmen Hathaway, Dorfetta Hathaway, Varis Hathaway, Wilbur Haught, Debbie Henderson, Bronson Hickman, Delmer Hickman, Orel Hickman, Ila Wilson Hildreth, Judy Hill, Jim Hoffman, Rufus Honaker, Warren Hopkins, Junior Hoskins, Hazel Hughes, Millie Jarvis, Sandra Jarvis, Opal Houchin Jett, Forrest Johnson, Everett Jones, Harley Jones, Rhoda Jones, Sue Jones, John Kapelka, Delma Kemper.
Keith Kendall, Gordon Kesler, Edna Kight, Mary Kincaid, Judy Knight, Wanda Knotts, Bernice Houchin Laughlin, Vickie Laughlin, Joe Lawson, Neil Lothes, Roberta Lynch, Oral Mace, Debbie Deuley Massey, Kim McCray, Arco E. McKee, Marie Houchin McKown, Judy Chenoweth Meadows, Thurl Metz, Jean Yoak Miller, Arville Holbert Millican, Betty (Bailey) Moore, Frances Moore, Cecil "Bill" Morehead, Wanoka "Tommy" Morehead.
Tressie Whytsell Morgan, Helen Morris , Bill Morrison, Laura Morrison, Bonnie Muncy, Ann Lorentz Murphy, Gleneva Murray, Dotti Nemitz, Bessie Newell, Acie Nicholas, Bob Nicholas, Dola Nicholas, Deward Offutt, Florence Oshoway, Joe Overbay, Glena Perkins, Jane Poling, Richard Poorman, Pat Radabaugh, Coy Rader, Robert Rader, Ocie Nell Richards, Celaine Riddle, Ruth Riddle, Mary Brown Ritchea.
Archie Rogers, Justine Rogers, Buck Rollyson, Joan Satterfield, Jim Saunders, Helen Morgan Scarpellini, Wilma Deweese Seckman, Violet Shaffer, Bob Shock, Bill Siers, Harry Siers, Ida Siers, Kenneth Siers, Jean Simers, Flossie Simmons, Mike Sims, Berthel Starcher, Donald Starcher, Grover Starcher, Rosa Starcher, Fred Starcher Jr., Myrla Stevens, Tracy Stull, Delano Taylor, Madeline & Virgil Taylor
Sally Taylor, Bernice Roberts Tingler, Herbert W. Toney, Wanda Toney, Millie Trippett, Kathy Tripplett, Darlene Vanhorn, Josh Varda, Liz Vazquez, Kathryn Virden, Wilfred Vogt, Bill Walton, Wallie Warden, Judy Watson, Georgia Weaver, Thelma Weekley, Howard & Sandra Welch, Robert Welch, William F. Welch, Charlie Whipkey, Marion Whisman, Albert Whitlock, Kenny Whytsell, Helen Williams, Roydice Williams.
Steve Wilmoth, Allen Wilson, Barbara Jane Wilson, Cassie Wilson, Marie Winans, Velma Wood, Arvin Yoak, Elias Don Yoak, Elva Yoak, Norman Yoak, Walter Younce, Betty Zannoni, My Hodie, My Uncle Harry, Preacher Bob