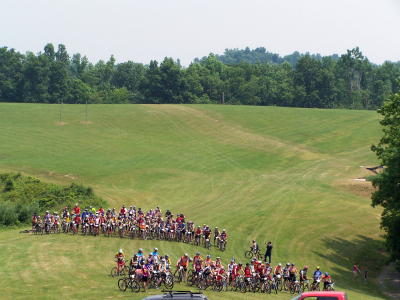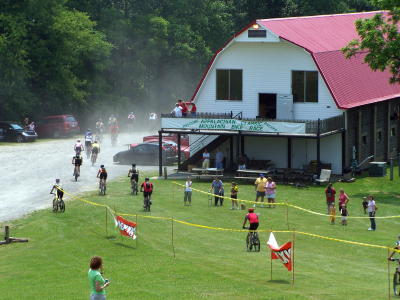 Mountain bikers came from several states to participate in the 10th annual Appalachian Bike Classic.
Cassie Smith of Morgantown and TJ Platt of Kensington PA were the top winners in the 10th annual Appalachian Bike Class this past weekend.
They won the prized hand-carved wooden bowls for the fastest expert times.
Laurie Johnston of Fairmont and Jason McDaniel of Beckley won the Ace Adventure Rafting Trips for the fastest two-lap "sport times."
The race drew a wide array of mountain bikers from West Virginia, Ohio, Pennsylvania and Virginia, to the Calhoun County Park, a two-day event that featured a family fun ride, kids events and a pond jump.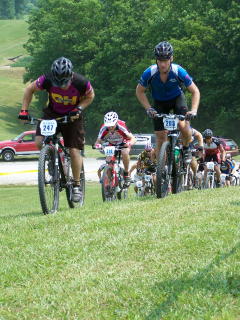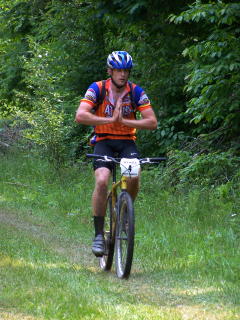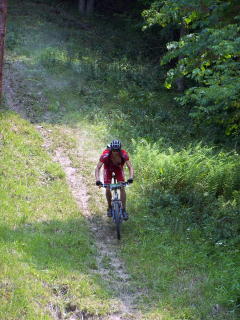 TIMES GIVEN FOR PARTICIPANT
Men Ex/Pro
1 3 Platt TJ New Kensington PA 1.50.22 2 141 Hill Steve Elkview WV 1.53.44 3 152 Riddle Joey Elkins WV 1.54.46 4 126 Altizer Shawn North Tazwell VA 1.55.06 5 117 Gorski Andy Allison PK PA 1.56.52 6 57 Wilson Danny Slippery Rock PA 1.58.12 7 160 Martin Jonathan Monangah WV 2.00.33 8 13 Yevuta Aron New Martinsville WV 2.06.14 9 6 Baker Chris Frostburg MD 2.08.24 10 100 Arnold Nate Marietta OH 2.19.00 11 73 Burgy Scott Elizabeth WV 2.19.38 12 46 Willy Rich Athens OH 2.22.55 13 147 Sverdlov Gal Bedford PA 2.23.02 14 143 Samples Tom Hurricane WV 2.28.51
Women Ex/Pro
1 1 Smith Cassie Morgantown WV 2.23.10 2 140 Riddle Mandi Elkins WV 2.34.46 3 17 Erlewine Meredith Athens OH 2.35.24 4 67 Boyle Elizabeth Athens OH 2.49.44 Men ExJr 1 130 Sink Roland French Creek WV 2.17.36 2 49 Ford JJ Buckhannon WV 2.28.14 - 22 Finch Chris Beckley WV DNF - 122 Miller Morgan Bridgeport WV DNF
Men ExMst 1 45 Lustic Ed Valencia PA 2.20.22 2 135 Root Scott Pittsburg Pa 2.26.43 3 66 Ross Matt Champion PA 2.27.15 4 112 Patterson Charles Pittsburg PA 2.31.11
Men ExVet
1 80 Kotses Peter Athens OH 2.03.46 2 19 Glass Marc Morgantown WV 2.04.41 3 18 Ford Dowain Aurora WV 2.20.44 - 154 Rodosta Gary Morgantown WV DNF
Singe Speed Open
1 4 Boyle Joey Athens OH 2.06.22 2 44 Watson Craig Athens OH 2.07.55 3 70 Moore Greg Parkersburg WV 2.09.26 4 76 DeVault Joe Columbus OH 2.12.13 5 104 Boyes Michael Milton WV 2.19.40 6 28 Cremeans Andy Ona WV 2.28.04 7 68 Patterson Charlie Pittsburg PA 2.34.56 8 31 Sproat Amanda Columbus OH 2.51.42
Men HS
1 266 Hartman Carl French Creek WV 1.40.24 2 253 Green Duncan Athens OH 1.44.50 3 306 Cook Josh Sissonville WV 1.59.12 4 335 Pieczynski Michael Pickerington OH 2.01.10 5 179 Slaughter Jonathan Buckhannon WV 2.21.33 - 242 Chambers Corey Athens OH DNF
Men Sport
1 205 McDaniel Jason Beckley WV 1.28.52 2 172 Miller Bruce Kenna WV 1.29.02 3 286 Harper Todd Chester WV 1.31.02 4 367 Johnson Bob Hollidaysburg PA 1.35.38 5 214 Welch James LaVale MD 1.41.26 6 178 White Jeremy Charleston WV 1.42.56 7 181 Williams Jeff Argillite KY 1.45.21 8 368 Lilly Brandon Shady Springs WV 1.47.51 9 178 Devlin Sam Parkersburg WV 1.48.30 10 259 Moseley Kurt Morgantown WV 1.49.29 11 358 Allen Mark Cool Ridge WV 1.54.24 12 211 Poff Philip St Albans WV 1.56.59 13 261 Smith Kerry Eleanor wv 1.58.21 14 177 Kirkpatrick Charlie Glenville WV 1.59.28 15 173 Blair Joe Charleston WV 2.02.06 16 263 Miller Travis Horner WV 2.11.28 17 371 Tweel Patrick Belpre OH 2.19.53 18 394 Hebb Rob Beckley WV 2.30.29 - 257 Price Richard Charleston WV DNF
Women Sport
1 197 Wren Susan Charleston WV 1.50.20 2 369 Walters Charlene Springdale PA 1.54.51 - 161 Ware Lori Clay WV DNF
Men SportMst
1 189 Arner Pete Chester WV 1.31.23 2 243 Williams Bruce Meyersdale PA 1.37.39 3 194 Ware Steve Clay WV 1.38.44 4 218 Heiskell James Parkersburg WV 1.39.00 5 233 Wells Gene Elkview WV 1.39.25 6 238 Wayne Doug Clay WV 1.41.13 7 231 Hunter Jr. Leroy Morgantown WV 1.43.07 8 396 Milam Kevin Charleston WV 1.52.47 9 260 Messenger Kevin Bruceton Mills WV 2.32.02 10 339 Morefield Gary Beckley WV 2.52.07 - 256 Burgy Gene Elizabeth WV DNF - 248 Rosso Mark Morgantown WV DNF
Men SportVet
1 247 Spreng Jr. Henry Cabot PA 1.29.12 2 183 Svoboda Steve Beaver PA 1.29.44 3 234 Burk Aaron Athens OH 1.37.45 4 285 Frame Scott Lost Creek WV 1.40.56 5 342 Hines Michael Morgantown WV 1.41.44 6 165 Kessler Fritz/B> Frostburg MD 1.45.53 7 192 Green Steven - 1.46.22 8 212 Schmidt Brian Millwood WV 1.48.16 9 363 Thorne Steven Hurricane WV 1.49.06 10 307 Pieczynski Mike Pickerington OH 2.03.03 11 332 Perkins Larry Red House WV 2.05.09 - 356 Carter Frederick Charleston WV DNF
Women Vet
1 201 Johnston Laurie Fairmont WV 1.49.20 2 199 Green KellyAnn - 1.52.09 3 182 Ware Shelley Clay WV 2.00.51 - 392 Buckley Angie Athens OH DNF
Men Beginner
1 451 Rhoads Wes Huntington WV 0.52.38 2 570 Krupia James Clarksburg WV 0.58.23 3 578 Robinson Marty Parkersburg WV 1.04.53 4 505 Jones Duane Parkersburg WV 1.07.15 5 591 Price Tyson Grantsville WV 1.09.41 6 599 Scott Louis Elkins Wv 1.19.14 7 204 Clothier Espe Millstone WV 1.21.19
Women Beginner
1 478 Mayle Jessica Grafton WV 1.16.47 Men Clyde 1 271 Bowie Tony Reedsville OH 1.47.56 2 255 Little Steve Dresden OH 1.52.56 3 213 Nedeff Vince Parkersburg WV 2.22.01 - 347 Miller Michael Bridgeport WV DNF
Men Jr 14
1 410 Spreng III Henry Cabot PA 0.49.56 2 575 Clothier Cai Millstone WV 0.52.22 3 554 Ware Kyle Clay WV 0.58.33 4 436 Mandeville Travis Beckley WV 1.04.32 5 439 Jones Scott Parkersburg WV 1.26.15
Men Law
1 564 Pickens Greg Milton WV 1.01.43 2 527 Martin Mike Parsons WV 1.22.43