Story and Photos by Drew Moody
For the Hur Herald
drewmoody@verizon.net

Old-time music has always been at the heart of the annual West Virginia State Folk Festival.

And so it was again, as Appalachian mountain music drifted in the air throughout the city.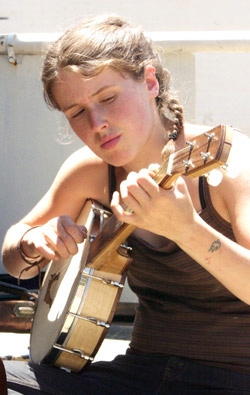 Gabrielle MacRae of North Carolina
There were evening music programs, fiddle and banjo contests, and what most musicians and music lovers enjoy - jammin' everywhere. They were like small groups of bees swarming to their favorite area.
Musicians took posts under cover of United Bank's drive through, on the second level of the Conrad Hotel breezeway, behind the old Conrad Restaurant (now Trezan's), and they even took over the steps of the downtown police station.
Music filled the air. Young and old alike played together in celebration.
It was almost too much fun to be legal.
The Fiddling Tumbleweed
Some musicians traveled great distances to be in Glenville, thought to be within a larger geographic region particularly blessed with old-time music talent - often handed down throughout generations. Lester McCumbers, of Nicut, Calhoun County; and late Melvin Wine of Braxton County among them.
One young woman, Erynn Marshall of Victoria, British Columbia, initially fell in love with the old 'claw-hammered' style of banjo playing, after studying Irish fiddle as a youth.
Then in the mid-1990s, she took Melvin Wine's class at the Augusta Heritage Center in Elkins. Marshall has been hooked on old-time fiddle music since.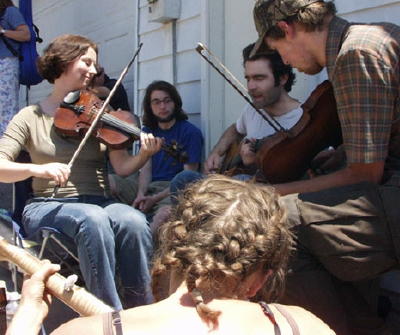 Erynn Marshall, left, jams with fellow musicians on the step
of the Glenville Police Department. Pictured clockwise from Marshall
are Nikolai Fox of Portland, Maine; Andrew Norcross, a banjo maker
(on fiddle) from North Carolina, and Gabrielle MacRae, also of NC
"I did become completely obsessed with this music," she said.
Her passion has fueled thousands of miles of travel and resulted in her writing a book profiling both the music, artists, and folk traditions of West Virginia.
Seven West Virgina musicians are profiled in her book. "Music in the Air Somewhere" is published by the West Virginia University Press. Marshall has donated all proceeds to the Augusta Heritage Center.
Included with this survey of Appalachian tradition is a CD of Marshall's field and archival recordings of West Virginia musicians Warren Cronin, Rita Emerson, Lela Gerkins, Leland Hall, Phyllis Marks, Lester and Linda McCumbers, Woody and William Simmons, Melvin Wine, and the Sand Valley Boys.
The book was presented as her master's thesis in Ethno-Musicology at York University in Toronto. She scoffed at the idea she's an accomplished author. "I'm just a fiddler at heart," she said.
Marshall's traditional music research has also taken her to Kentucky and North Carolina as well. She describes the fiddle style found in West Virginia as more "raw, smokey, and sincere."
She says the nuances of fiddle playing from region to region are similar to accents and dialects of language.
It's a subject difficult to speak about, because the knowledge is in the experience of either listening to the music or making it.
When visiting with Marshall one has the distinct feeling area residents of central West Virginina live among truly great musicians, often without realizing it.
She's returning to British Columbia to teach fiddle playing.
The Tuned Washtub Bass
"I didn't invent it, I just made it better," said Dave Donehoo of Lincolnton, Georgia. He uses a shovel handle, a tuning key and sound-hole on the bottom similar to a guitar, and raises it off the ground a little. The result is a single-stringed instrument with the sound quality of a genuine upright base.
Donehoo also plays fiddle, banjo and guitar. He says there's already enough of those instruments available and brings the bass because it's more in demand.
His father and grandfather were fiddle players in North Georgia. "You can't find much old-time music in Georgia anymore," he laments.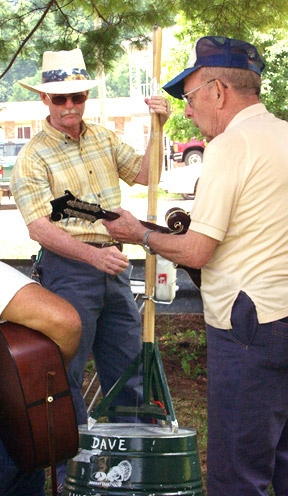 Dave Donehoo on his washtub base, playing
with Chester Jones of Calhoun County
The librarian and competitive bicyclist laughs at the attention the bass receives. "I've had thousands of pictures made with it."
Donehoo paused to reflect on the irony of this attention.
Once when playing alongside West Virginia dulcimer player Alan Freeman, Freeman was essentially overlooked in favor of Donehoo's washtub contraption. "And Alan is the best dulcimer player in the world, I think," Donehoo said.
The Rest - An Eclectic Mix
A young musician from Portland, ME; a banjo maker from Madison County, North Carolina; a sometime house painter and baby-sitter; and an author sat on the steps of the Glenville Police Station playing tunes.
They all looked almost too young to be such accomplished musicians. And all played in perfect time.
"I haven't played with these guys since one day last year," said Erynn Marshall. "It's a universal language."
In looking over the crowd, believed to have declined this year, it cuts across cultural lines.
Some players looked like they'd be more at home at a Rainbow Gathering or Grateful Dead concert. Others appeared polished and ready to take the stage anywhere.
All share a mutual love and respect for old-time music.
For those interested in additional music festivals upcoming in West Virginia see information about the Appalachian String Band Music Festival at www.wvculture.org This festival is from August 2-6 in Clifftop, Fayette County.
Other events are scheduled throughout the summer in Elkins, West Virginia
through Davis & Elkins College's Augusta Heritage Arts Workshops.
Concerts and jam sessions are frequently scheduled. For more information see www.augustaheritage.com
The old-time Fiddler's Reunion is in October.
The West Virginia Division of Culture and History Center's website is also a good source for information about West Virginia. See www.wvculture.org for more information.