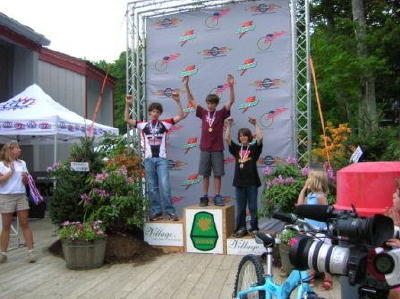 Submitted by Diann Clothier
Cai Clothier, racing Jr 14 And under Cross Country, managed to maintain a 2nd place finish this past Saturday at the NC Sugar Mountain National Mountain Bike Series after crashing into a tree. He reported that he was "kind of laying there, and heard a bike go by, and thought, Oh! Yeah, Race!"
Sugar Mountain housemates performed well, too, with Pro Men's Racer Nick Waite (Davis, WV) grabbing his first NORBA Pro podium spot with a 5th place finish, Dr. Steve Thaxton (Sissonville, WV) taking 3rd in the Men's Expert 40-45, and newcomer to WV Todd Rennie (Charleston, WV) taking 4th in Men's Expert 30-35.