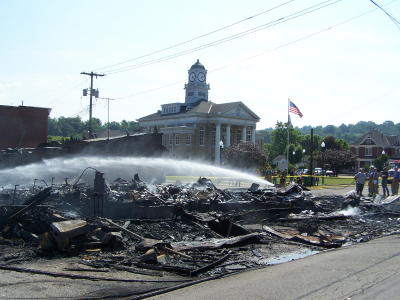 Fire raged through 125-year-old Elizabeth store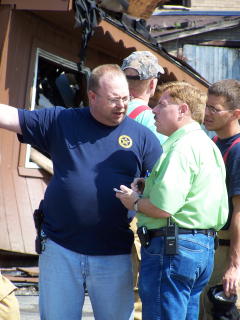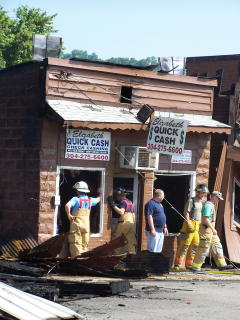 A State Fire Marshal talks with Wirt Deputy Lou Peck,
investigating possible arson (left) in front of Elizabeth's
Quick Cash outlet, also destroyed in the blaze
By Bob Weaver
Fire roared through Elizabeth's historic Robert's Store and Hardware early Wednesday morning, completely destroying the business which has been at the location since 1890.
Firemen said the large wooden structure was "roaring" when their first truck arrived about 4 a.m.
The large store was often a tourist stop, where visitors could walk through three stories of goods, with some of the items dating back over a half-century.
Local historian Carole Menefee said it is a sad loss for the town.
The fire also destroyed three other buildings, damaged a bank, church and some nearby houses.
An early estimate of the damage was not available.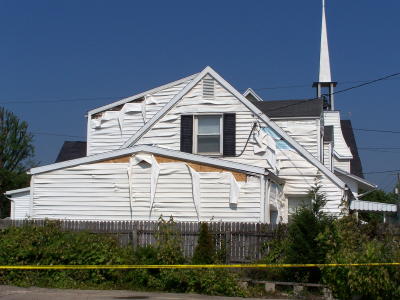 Fire damaged the United Methodist parsonage and church across Route 14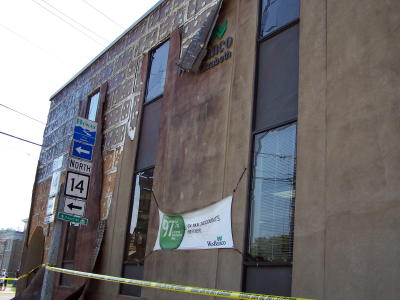 Nine fire departments worked together saving
the WesBanco Bank, directly across the street
One of the buildings destroyed housed the records of the local 911 addressing and mapping program, but a Wirt firemen said the information was in a fireproof safe.
The old Reed-Sturm insurance building and Elizabeth's Quick Cash business, were destroyed.
Nine fire departments from three counties assisted the Elizabeth-Wirt VFD for several hours, bringing the blaze under control.
The State Fire Marshal's office was on the scene before noon today, investigating for possible arson.
Power and telephone service was out to part of the area, but several crews were working to restore service. Rt. 14 was closed for a few hours. WesBanco and Calhoun Bank was closed Wednesday morning because of the disruption, in addition to retail outlets in the main part of town.
The WesBanco Bank, across the street from the fire, received heavy damage to the exterior of the building, as did the United Methodist parsonage. The nearby Methodist church was scorched.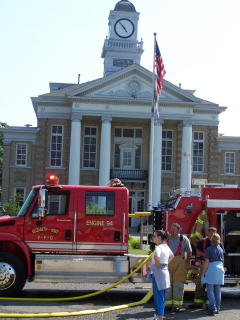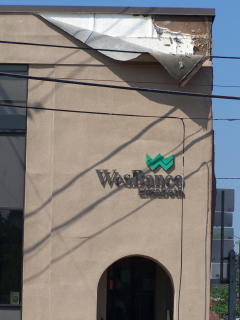 Elizabeth-Wirt firemen still on-the-job five hours after
fire struck WesBanco building roof nearly catches on fire