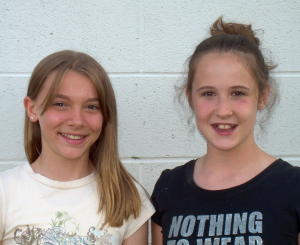 Amber Wilford (L) and Jordan Mace (R)
will attend World Leadership Forum
Submitted by Karen Mace
Jordan Mace and Amber Wilford have been selected to attend the People to People World Leadership Forum, Spring 2007 in Washington D.C.
Mace and Wilford were nominated by sixth grade teachers as top students at Calhoun Middle High School.
Jordan is the daughter of Jim and Karen Mace and Amber is the daughter of Tom and Dee Wilford.
People to People was created by President Dwight D. Eisenhower, based on his belief that "people can make a difference where governments cannot."
This unique program will develop leadership skills so students can serve as more effective leaders within their schools, organizations, and communities. Week long activities will emphasize leadership development, team building, community service, academic coursework, excursions, and social interaction.
Students will visit a foreign embassy, Williamsburg, Eisenhower farm, Civil War battlefields, Arlington National Cemetery, Smithsonian, and many other places. Participants will meet America's top government leaders face-to-face.
Jordan and Amber each received a $300 scholarship from Calhoun County GEAR-UP and will pursue other scholarships through People To People. The students will be securing funding throughout the summer for this valuable experience. They thank the community for their support.