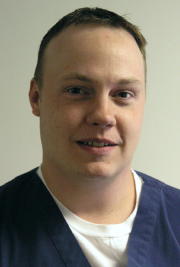 Minnie Hamilton Health Care Center, Inc. is pleased to announce the addition of their newest provider, Dr. Jeremiah Shelton.

Dr. Shelton graduated from Elkins High School is 1998 and went on to receive a Bachelors of Science Degree in Biology from West Virginia Wesleyan College in Buckhannon, West Virginia. In May 2006, he received his Doctorate in Dental Surgery from West Virginia University.

Dr. Shelton says besides spending time with his fiancÚ Teresa and her son, Jacob, he enjoys being in the outdoors. He likes hunting, fishing and other outdoor activities.

Dr. Shelton is excited to be working in Calhoun and surrounding counties. When asked what attracted him to Calhoun County, Dr. Shelton replied, "I love working in rural communities where you get to know your patients and their families on a more personal level."

To make an appointment with Dr. Shelton or Dr. Lynn Gilbert at the Calhoun Dental Clinic, please call 354-6144 or 354-9244 (after hours).