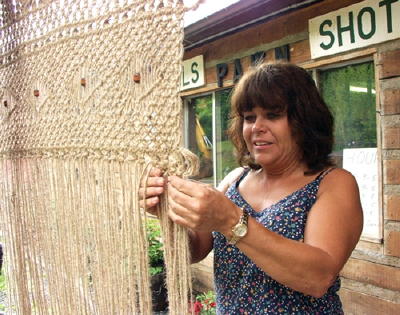 Wanda Ramsey creates artwork on the porch of her Glenville business
By Drew Moody
For the Hur Herald
drewmoody@verizon.net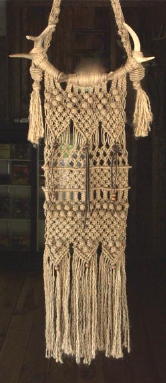 "Back in the day, it was one of those old hippie things," said artist Wanda Ramsey recently as she worked on her newest macramé wall hanging. Her artwork will be displayed during the West Virginia State Folk Festival, June 15-18 in Glenville.
Those 'hippie days' were a few years ago and she's continued perfecting the skill necessary to create intricate weaved patterns using different types of knots. Traditionally materials used include cotton twine or hemp. The most common knots employed are square knots and full-hitch and double-half hitches.
Antler and beaded wall-hanging
Among the macramé creations are wall hangings, plant hangers, necklaces and bracelets.
Ramsey incorporates local natural materials such as antlers, feathers and driftwood into her designs. She also hopes to travel and exhibit in regional festivals, as well as feature the work in her gun and sporting goods store in Glenville.
A room in the store of the Little Kanawha Trading Post will soon serve as a consignment shop for other artists as well. Ramsey says Glenville needs a 'guns and doilies' shop, smiling wryly.
She plans on displaying her work downtown, and will be giving demonstrations when she can get away from the business. Festival goers can look for her both places.
While her hands are capable of works of fine art, Ramsey is also a marksman with a pistol and enjoys fly-fishing for relaxation.
Ramsey's time growing up was divided between Oklahoma and West Virginia. She's a graduate of Gilmer County High School. Her family has a long tradition in the oil and gas business locally. Her brother, Leon, owns Ramsey Associated Petroleum, also located in Glenville.
The Little Kanawha Trading Post is located at 315 W. Main Street, Glenville. Store hours are 9 to 5, Tuesday through Friday, and 9-3 on Saturdays.