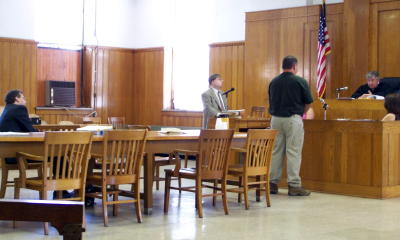 Left to right, attorney Kevin Duffey (seated), prosecutor
Matt Minney, defendant John Richards, and Judge David
Nibert, consider Richards' motion for a hearing on his sentencing
Judge David Nibert granted a request yesterday by John M. Richards for a hearing regarding his plea agreement.
Richards was scheduled to be sentenced for a misdemeanor related to receiving stolen goods.
Richards contended he had been "pressured" into accepting a plea deal, which called for reducing the charges from a felony to a misdemeanor.
Richards claimed he had information related to a murder case in Roane County, according to court records.
After a disagreement between Richards and his attorney Kevin Duffy, Richards indicated there had been communication problems between the two.
At one point, Duffy appeared to be ready to withdraw from the case.
Prosecutor Matt Minney objected to a further hearing on the sentencing, saying that Richards had six or seven different attorneys dealing with the matter, indicating the case needs to be resolved.
Minney said Richards had three public defenders on the case, Baldwin, Davis and Boyles, and four other special attorneys had been appointed, Oshoway, Patton, Skaggs and Duffy.
Richards either fired or there were conflicts with some of the attorneys, while others left the area for other positions.
A hearing date has been scheduled for June 22nd at 9 a.m.