By Alvin Engelke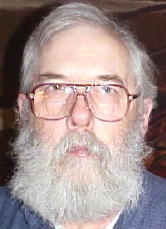 By Alvin Engelke
Rev. Juanita Lockhart filled her regular appointment at the Burning Springs M. E. church. The Marks family and the Hurst family provided special singing.
Sally & Chuck Haavik and family will be going to Norway for five months to establish a ministry at a major university there. Her great-grandfather, John R. Pell was a Creston merchant and businessman.
Sue Farnsworth's daughter and children, Sheri, Maddie and Toni Wells are spending two weeks visiting in Finland. Some while back they hosted an exchange student so now they are making a visit to Scandinavia.
Andrea and Brandon Ferrell, Jeannie and Jeff Westfall were among those calling on Mr. & Mrs. Carl Ferrell.
Connie Duffield and Stephen Settle were married June 10 at an outdoor ceremony at Camp Barbe. The limo ride home was in the big red fire truck inasmuch as Stephen is a lieutenant on the local force. The "limo" was followed by a line of vehicles blaring horns and sirens. Everyone wishes the new couple the best of everything.
Nancy Hall's family hasn't had the best of luck recently. First Tyler Copen turned a four-wheeler over on himself and did serious injury to his arm resulting in surgery & hospitalization. Then Rachel Schrader was riding her bicycle when the dog got in the way. She ended up with both the radius and ulna being broken her arm.
Nancy & Jane Engelke attended the Miss W. Va. Outstanding Teen pageant in Morgantown. Calhoun County's two contestants, Leslie Garrett and Hannah Law made Calhoun proud with Hannah being first runner up. The contest stressed talent, evening gown, personal interview, on stage interview and physical fitness & sportswear presentations.
Dorine Parsons is moving to Parkersburg.
Both the Wirt and Calhoun road crews mowed the grass on W. Va. 5 before Decoration Day while some of the "prominent" counties did not. Then some one applied herbicide in Creston as was done through out the entire district.
Josemite Sam, a/k/a Sam Dawson started mowing the Richardsonville road but then he "made like Jeb Clampett" and found gas. Actually he found C. Glen Arthur's gas meter with the mower and the folks at Mountaineer Gas had to come and install a new gas meter.
The price of local Pennsylvania grade crude on Saturday was $67.50.
A memo is going around in cyberspace noting that with rampant political correctness, one can no longer use the term "Hillbilly". One must use the term Appalachian-American.
A Calhoun native who has been running a construction company in Atlanta Georgia was visiting relatives and friends recently. Since it was known that he employed Mexicans he was asked about how all that worked. He noted that no one else would dig ditch and such and that the wages he paid were high. When asked whether any of them were illegal aliens his comment was "every now and then one runs across one that is legal." He noted that if one wants work done there is no one else to work and employers there have no choice. He noted that many send money back to Mexico to support family and one older 'Hooner noted that sounded like when a prior generation worked in Cleveland and sent money back to keep the home fires burning in Calhoun County.
Of course not all the illegal aliens come here to work for now the SSI checks come with Spanish language papers, "Proteja su dinero - y su identidad".
It was understood that at the annual conference at Buckhannon the "Old Vietnam Anti War crowd" gained control and said we should stop fighting the Moslem terrorists that have vowed to kill us all and eradicate Christianity. The recent foiled attack in Canada should have been a wakeup call for those who would coddle as the homegrown terrorists there, among other things, planned to decapitate the Prime minister. Someone said targeting the Canadians was like gunning for the Care Bears. The following poem by Horace Mann might be applicable in dealing with the worldwide terror threat which some choose to ignore.
"No one escapes when freedom fails
The best men rot in filthy jails
While those who cried 'Appease, appease!'
Are hung by those they tried to please."
Several folks were out four wheeling over the weekend. Spotty rains have held up haymaking operations while a lot of grass was laid down Sunday afternoon.
The folks down at the Mouth of the Elk River are making big plans to "modernize" taxes in West Virginia. One recent doing was raising the minimum Workmen's Compensation tax from $250/year to $750/year. One might say that is part of "being open for business" but only if your pockets are deep. The tax folks have made it clear that they have their eye on farmers and intend to make them pay more. After all Al Gore said we didn't need 'em as we should get all our food and fiber from third world countries.
Euell Russell was calling on C. Glen Arthur. Glen has been having lots of company recently.
Some local residents have been having trouble with their cell phones. Lots of money was spent, stuff in the vehicle was fried and service is just about nil. Promises have been made to make things right.