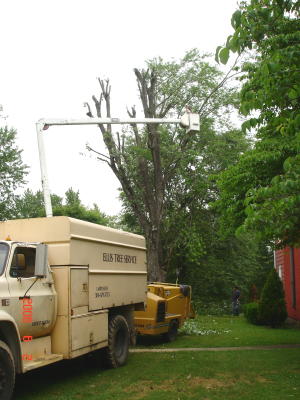 Ellis Tree Service of Davisville completed trimming and removal of trees on the Beauchamp-Newman museum grounds in Elizabeth last Friday.
Larry Ellis and his crew donated the entire cost of their services back to the museum's furnace fund.
The Elizabeth Beauchamp Chapter Daughters of American Pioneers is extremely grateful for their generous contribution.
Ellis Tree Service is owned by Larry L. Ellis and his wife, Betty. Betty is the daughter of the late William Wigal. A native of Wirt County, she was born and attended school on Lynn Camp at Palestine.
Larry is from Spencer. Upon coming to the Elizabeth area, he worked at the Area Soil Conservation Service in Parkersburg and was land manager for St. Joseph's Hospital. In 1969, he and Betty went into business for themselves doing commercial and residential tree trimming and removal. He also, sub contracts for Verizon Telephone Company. They are the parents of two boys and a girl.
Larry and Betty said that they felt the need to support the community and surrounding area.
Larry said, "There is a lot of history inside the museum. Things that the children will never get to see anywhere else. With this first step I hope others will be inspired to help maintain the museum."
His company is planning on making an annual contribution to the Daughters of American Pioneers. The museum receives no support from local, state, or federal funding and is solely supported by donations and fund raisers.