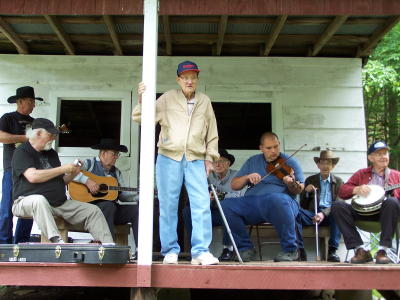 Randall takes the stage one more time to
sing of his love for his West Fork valley home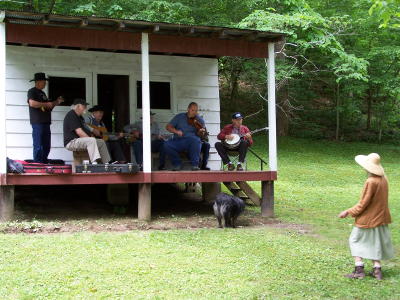 Randall's musical friends play a tune that brings
a dance from lower fork resident June Moore
Ninety-year-old Rocksdale-Richardson resident Randall Whytsell greeted family and neighbors to a cook-out Saturday at the Whytsell Park along the West Fork of the Little Kanawha.
Randall took the stage to the delight of those attending, something he has been doing since 1940 when he appeared on a Parkersburg radio station, singin' and pickin'.
The Whytsell Boys, usually with brother Woodrow, have been an entertainment fixture in Calhoun for over 65 years.
Randall (pictured left), one of the area's best storytellers and historians, said Saturday's get-together was a "warm-up for the Whytsell reunion in August," which is one of the county's largest family and friends get-togethers.
Randall and his daughter Peggy Stemple, with husband Marvin, have carried on the tradition since Randall's wife Blanche passed away in 2004.
More photos from the event will appear on the Herald this week on Page 2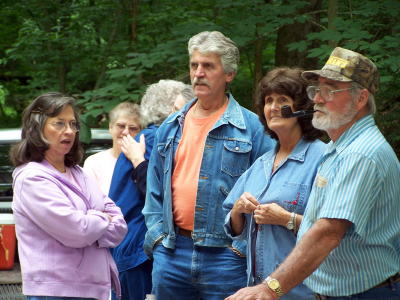 A few of the folks who enjoyed the afternoon
(L-R) Dottie Roach Williams, Roger Jarvis, Sue and Gary Roberts