BRONSON HICKMAN PASSED IN 2009 AT AGE 60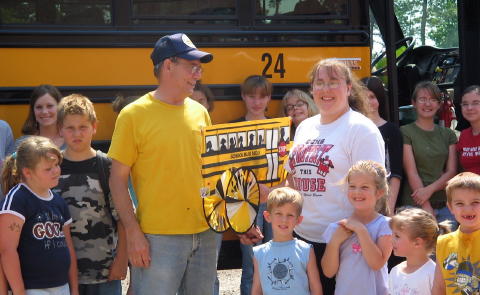 Hannah Wilson presents Bronson with a school bus
windmill, in appreciation for his years of dedication ...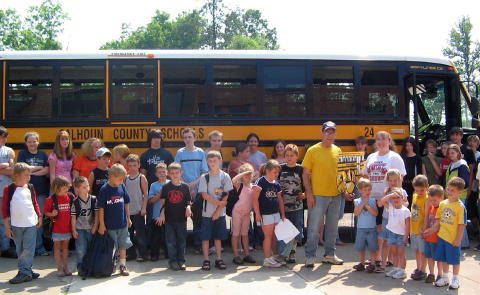 ... presentation made for 25 years
service to his kids at Pleasant Hill School
Well-known Calhoun bus driver Bronson Hickman of Nobe had to retire early because of health problems.
Last Tuesday, Hannah Wilson, daughter of Calvin and Jo Lynn Wilson of White Pine, now a student at Calhoun Middle-High School, presented a school bus windmill to Bronson on behalf of all the kids who rode his bus.
Bronson said he was fortunate to be on the same route for 25 years, "Really enjoying the kids."
"Over the years the weather was a challenge," he said, keenly aware of the responsibility he had for the children's safety.
The kids were pleased Tuesday to see Bronson and wished him well, some of them recalling on on Spring and Fall days, even before they started to school, they would be out in their yards waiting for Bronson to come. Bronson would toot his horn and wave as he passed.
Bronson was a man dedicated to his job, frequently traveling to school bus rodeos in Florida, Alabama and Kentucky, often receiving recognition for his driving skills.
When school was on delay due to the weather, he would call the kids on the route to let them know so they wouldn't be out standing in the cold, waiting.
Now Bronson's brother, Tim Hickman is on the route.
After the presentation, Bronson told the kids, "Let's load 'em up!", a phrase he has said many times in the past.
June 2006