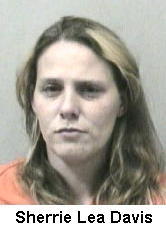 A Millstone woman, Sherrie Lea Davis, 29, was sentenced yesterday to not less than one year nor more than five in the WV State Penitentiary, for her part in the operation of a meth lab at Millstone.

She will be given credit for time already served.

Judge David Nibert sentenced Davis for conspiring to attempt to operate a clandestine drug lab in or adjacent to her mobile home.

Davis was arrested in September, 2005 with Joseph Paul Kute, 22, also of Millstone, after police searched their property and discovered evidence.

Kute was arrested for operating a clandestine drug lab, possession of a controlled substance, and fleeing from police officers.

Kute reportedly ran into the woods after he had been handcuffed by officers.

Kute was sentenced to six months to two years to the Anthony Center.

Judge David Nibert also sentenced Alfred Glen "Bucky" Rose, Jr. for an unlawful assault. He will serve one to five years on home confinement.