Western New York authorities are investigating a murder that might have ties to Clay County, WV.

The victims wife, Lisa Fickel, told the Hur Herald she is on "an endless mission to find her husbands killer," indicating recent leads may be pointing toward individuals who are linked to Clay County.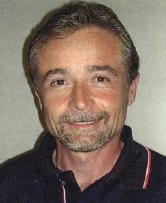 Police are still looking for a suspect and a motive more than six months after 46 year old Bill Fickel (pictured left) was killed November 10, 2005 outside his Genesee County home near Batavia, N.Y.
"We haven't got a clue why he was shot," said his wife. "He was a straight-up kind of guy in this community."
Fickel had few enemies, and investigators with the Genesee County Sheriff's Department are "truly stymied."
"We've looked into this man's personal background, his finances and his wife's background," said Chief Deputy Jerry Brewster. "We're more of the opinion that he was shot by happenstance rather than in a cold-blooded plot."
Brewster said police do not have concrete evidence that links the murder to a person from Clay County, but they still believe someone there might have knowledge of the slaying.
Authorities have looked into 400 leads.
He said "There were people (interviewed) who made reference to the fact that there was someone up here from Clay County that may have been here at the time of the homicide."
"We're having trouble figuring out who this person is, but it is believed they were driving the vehicle we're looking for.
Fickel's wife asked the Herald to keep publishing the information, in hopes that someone will come forth.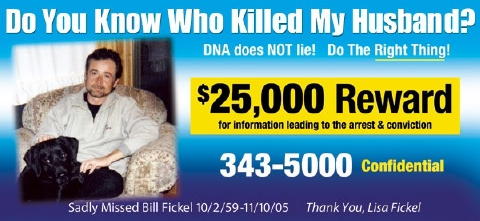 Reward is offered for information
She has erected a billboard offering a $25,000 reward for information leading to an arrest and conviction, and she was instrumental in getting the case on the America's Most Wanted Web site.
Bill and Lisa Fickel began dating when she was 17 and finishing her senior year of high school, dating for eight years before marrying in 1987.
"It was an instant connection," she said.
Fickel was an employee for Time Warner Communications, and had just come home from work when a truck pulled into their driveway to turn around.
The couple was trying to sell a utility van they parked across their rural road and figured it was a prospective buyer, so Bill grabbed the keys and left for the driveway.
He took a flashlight and Bo, the couple's black Labrador retriever, out to meet the people in the truck.
The truck is described as a white or light colored dual wheel, similar to a one-ton pick-up with a flatbed or small dump, with amber mark lights on the roof, and a utility-type box on the back.
He was then shot, and the shooter sped away.
"I really don't know anyone down in your part of West Virginia," she said, "But I'm asking for any kind of help."
"I just keep looking out of window and wondering why, why," she said.