Submitted by Barb McKown

The Women First campaign has completed its first grant year with a celebration gala at Embassy Suites in Charleston, West Virginia. The Women First campaign was created in June 2005. The goal of the campaign is to reach every corner of Calhoun County with the message of breast cancer awareness.

The campaign is built around the Community Lay Health Advisor model. This model teaches non-professionals how to tell others of the risks, symptoms and treatments of breast cancer. Lay Health Advisors are considered trusted friends and neighbors; active in their community; natural leaders and role models and any man or woman who cares about spreading a message of hope.

Lay Health Advisors Catherine Virden, Alta Mae Richards, Dorothy McCauley and JoAnn Straub completed a series of three trainings, Signs and Symptoms of Breast Cancer; Effective Communication" and Treatment Options. Each advisor has been given materials and have agreed to spread a message of hope throughout Calhoun County.

On Saturday, May 13, 2006, the participants were honored by the Mary Babb Randolph Cancer Center for a successful year. Grant awardees from across the state were brought to together to share program ideas and activities hosted.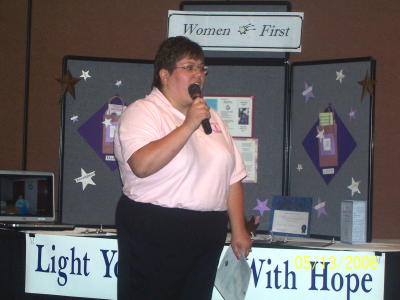 Program Champion Barb McKown tells audience
of breast cancer awareness in Calhoun County
Participants were treated to a buffet lunch and presented with certificates that read, "On behalf of the Mary Babb Randolph Cancer Center, thank you for your dedication and service for the promotion of cancer education and prevention in your community."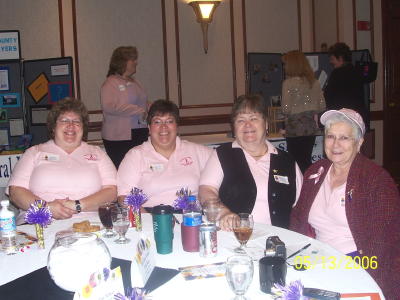 Members Anna Reno, Barb McKown, JoAnn
Straub and Alta Mae Richards enjoy celebration
The Women First slogan is "Light Your World with Hope." We want to spread this message of hope to all men and women in Calhoun County. To join this campaign or for more information, please contact Barb McKown at 354-9244.