Truck lands on top on Mt. Zion Hill, off State Rt. 16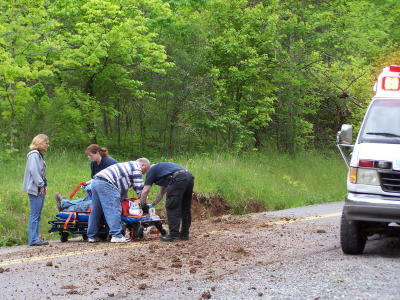 Driver reportedly receives minor injuries
A 21-year-old driver escaped serious injury Sunday after his pick-up truck dropped off the roadway, went out-of-control and rolled-over on its top on Mt. Zion Hill, a short distance from Rt. 16 on the Hur- Rocksdale Road.
He was taken to Minnie Hamilton Heath Care Center by Calhoun EMS about 11:30 a.m. The Grantsville Volunteer Fire Department responded.
A female passenger in the truck was uninjured.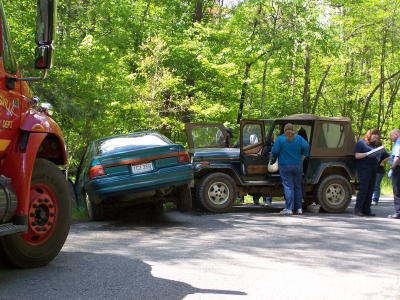 Leading Creek accident near Wirt County line
Two vehicles, a car and a Jeep, collided on Leading Creek Sunday afternoon, not far from the Calhoun-Wirt line. Calhoun EMS and the Grantsville VFD responded, with the victims declining to be transported to the hospital. Reports said there were injuries with the driver of the Jeep and a three-year-old with her, who later went to MHHCC and was transported by ambulance to Charleston. The driver of the car was reportedly cited.
Children in car seats were occupants of one of the vehicles.
Calhoun EMS and the Grantsville VFD responded about 3 p.m.
The Arnoldsburg VFD responded to a car fire of the left fork of Daniels Run ahortly after 11 p.m. Sunday, where the care was reported to be fully engulfed.
Calhoun EMS and the Arnoldsburg VFD responded to an accident at the Arnoldsburg "Y" at 12:45 a.m. Monday, reported involving a U-Haul. First report said there did not appear to be serious injuries.