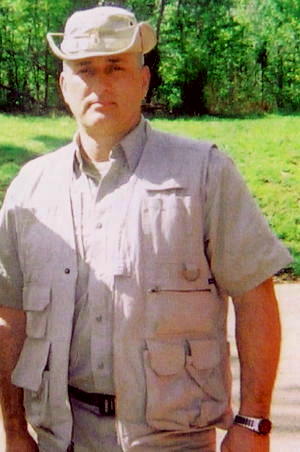 "Charlie McCroskey" training officers in Afghanistan
Charles McCroskey, a former Grantsville police chief, is teaching citizens in Kabul, Afghanistan, to be police themselves, after been sent to that country on April 30th.
Officially, McCroskey is serving with the USA National Police Force, a group of experienced officers from all over the USA.
DynCorp, a private agency that trains officers, will be instructing Afghans how to operate under civilian law as police officers.
McCroskey, a graduate of the WV State Police Academy, has over 20 years police experience, having served as Grantsville's police chief, a lieutenant with the Glenville Police Department, and a deputy sheriff in Calhoun and Roane counties.
He is married to Sherry Nichols McCroskey and is father of April and Brad McCroskey. He is the son of Helen McCroskey Jordan of Grantsville and the late R. C. McCroskey.
Helen McCroskey said "We wish to honor Charles and all police officers who have dedicated their lives to protect and service," this being National Police Week.
McCroskey participated in an intensive training
course in Virginia before his assignment abroad