By Drew Moody
Special for the Hur Herald

GLENVILLE WV - Glenville State College, with an expanding list of partners, continues its quest to bring high speed internet access to increasing numbers of West Virginians.

Three years ago Glenville captured national headlines with a high speed wireless broadband pilot project in cooperation with the Center for Appalachian Network Access (CANA), part of Carnegie Mellon University (CMU) in Pittsburgh.

That project showed wireless access could be achieved despite the rugged terrain here. It was the first time such a project had been attempted in the mountain state.

The Gilmer-Braxton Research Zone (GBRZ), established in 2004 is another first, partnering both counties with Glenville State College (GSC) and CANA. The group has created a Request for Information, known as an RFI, to solicit input eventually developing a plan to secure funding and create a widely available high speed network here for research purposes. Verizon, FiberNet and perhaps other telecommunications companies are expected to be involved as well.

The ultimate goal is twofold; 1) Make high speed internet access more accessible to everyone, and 2) Work with existing businesses to utilize the benefits of the system, as well as attract new businesses into central West Virginia.

This represents the equivalent of a 21st Century industrial park, but mobile and fluid.

The GBRZ contracted Pittsburgh Gateways Corporation for $10,000 to investigate economic development, as well as educational and health applications. These fees were paid for through grants.

Since the release of the RFI two weeks ago, 20 large companies have contacted the GBRZ, according to Larry R. Baker, GSC's associate vice-president of technology. He's committed to fully utilizing new technology, and he believes high speed internet is one of the keys for the area to survive.

"I don't think it's a save-all," Baker said, "but I definitely think it's a step in the right direction."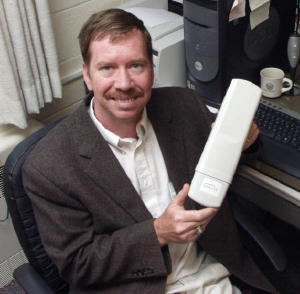 Larry Baker, associate vice president of technology
at Glenville State College, holding a wireless transmitter
that's part of the Motorola CANOPY system
CANA was created in 2003 by CMU professor Bruce Maggs and Pittsburgh investment banker John Whitehill.
WIRELESS NETWORK PROJECT 2003
The Appalachian Regional Commission (ARC) and the Claude Worthington Benedum Foundation gave researchers at CMU's Center for Appalachian Network Access (CANA) a $250,000 grant to set up the wireless network at Glenville State College. An additional $125,000 was later donated by I.L. Morris, owner of WACO Oil and Gas.
The strategic plan document, available on the CANA website, dated August 11, 2003 indicates in addition to securing hardware for the network two computers were given to the Glenville Police station.
The Glenville Democrat / Pathfinder also received a computer and was provided with networking services. In addition the document states, "CANA in conjunction with local advisory board intends to purchase space in the newspaper to report on the project. We note that GSC has a similar program to disseminate information. Secondly, CANA is working with the newspaper management to provide a digital version of the newspaper." (page 16)
The CANA website says the Motorola CANOPY wireless installation occurred over a period of three weeks in the summer of 2004. The equipment allows for line-of-sight wireless access to the internet.
The system was eventually set up and tested in about 32 locations in the Glenville area. High speed internet was installed in several locations, according to CANA documents. Included in the initial phase were: the Gilmer County Community Center, the Glenville newspaper, Information Research Corporation located at GSC, Distance Learning Center, Glenville Police Station, and several professor's homes.
The equipment was successfully tested and at that point the initial requirements of the grant were satisfied, according to GSC's Larry Baker.
A HITCH IN THE PLAN
After initial testing there were plans to use at least three towers and several additional CANOPY units to the signals to be received city-wide.
Local citizens were anxious to be able to finally experience high speed internet access. It must have sounded too good to be true; and it turned out that it was.
According to CANA's strategic plan, the system needed to be economically self-sustaining. To do so a minimum of 100 residential subscribers were needed paying $19.95 a month, as well as 10 business subscribers paying $49.95 monthly.
Annual maintenance of the network was estimated to be $25,000. A community advisory board managing the network was slated to be established.
The second phase of the plan didn't materialize and local citizens have been wondering why they can't connect to GSC's WiFi network.
It's not because the system didn't work.
IF YOU BUILD IT THEY WILL COME
Come they did.
Hello Verizon.
Goodbye GSC's city-wide wireless network.
Sometime around the period of the initial testing of GSC's wireless equipment, Verizon decided to provide DSL high speed internet service in Glenville. The move was apparently somewhat unexpected.
Because GSC didn't want to appear to be in competition with Verizon it ended plans for the implementation of Glenville's wireless network.
Verizon now offers high speed DSL internet access within about three miles of their downtown hub at prices ranging from $15 to $30.
GSC and Verizon continue to work together. "Verizon is a friend to Glenville State College," said Larry Baker.
Verizon does have competition from other telecommunications companies in the area.
FiberNet recently began laying new fiber-optic cable in Gilmer County and is working in Braxton County as well, according to Baker.
Frontier Communications installed DSL in Grantsville providing the first cheap high speed access to central West Virginia, available within three miles of their office.
Baker believes access to the newest technology has the potential of a significant economic and educational impact in the area. "The objective is to make sure anyone can get high speed pipe (access) at a price they can afford."
NATIONWIDE - POLITICS AND CONFLICT
Cities and telecommunications companies are in a race to install broadband across the U.S. Politically, states and cities are sometimes seen as being on different sides of the same issue. Several U.S. cities, Chaska, MN among them, have created their own WiFi networks.
Chaska used 200 Wi-Fi cells from Tropos Networks to cover the entire 16 square mile area of the city's 7,500 households. It was designed and installed by city workers in less than a month.
According to USA Today the largest WiFi cloud in the U.S. is in rural Oregon, stretching over 700 square miles.
Many telecommunications companies, including Verizon, are lobbying cities, state legislatures and Congress to limit or prevent cooperative or privately owned networks from being established.
The Huntington Herald Dispatch reported in March 2005 a bill before the West Virginia legislature intending to increase broadband public/private partnerships in the state was "toned down" due to such pressure. As it stands now the topic will undergo a year study period.
LOCAL INNOVATION DIDN'T BYPASS GLENVILLE
"My position has always been progress," said Dave Ramazon of Ramco Technologies in Glenville. "That's why I offered my tower (to GSC)." Ramazon has operated a full service computer business here for 25 years.
He singlehandedly, at his expense, brought local dial-up internet service to the Glenville area about 10 years ago. Ramco offers high-speed internet access, custom built computers, networking, web hosting, and offers various hardware accessories for sale at his North Lewis Street location.
Ramazon acknowledges he's seen the politics of the issues first hand. "We just stay low," he said. "I didn't want to be the guy that kept the highway from coming through," he said, referring to local business owners who successfully prevented I-79 from passing through Glenville.
At one point, in the mid-1990s, Ramazon successfully beamed an internet signal from his tower to the high school, making that experiment the first wireless bridge in Gilmer County. It was, at that juncture, a cutting edge experiment.
"He (Ramazon) is the pioneer in all areas of technology as it relates to the school system, no question about it," said Dave Bishop, assistant principal of Gilmer County High School.
Until roughly two years ago the Glenville area had very limited high speed internet access due to the high cost, but it was here. Gilmer County High School has had a T-1 high speed internet connection for several years. Glenville Elementary and Normantown Elementary have recently acquired T-1 lines and Sand Fork is expecting one to be installed "any day." High speed satellite connections have also been available in the area for several years.
HUMBLING AND FATEFUL TIMES
Simultaneous events and what could be referred to as a series of 'unintended consequences' that would become a significant factor in Glenville State College's future occurred when Larry Baker and his wife decided to leave Charleston, West Virginia. They opted to raise their children in the country and relocated to the Grantsville area.
Baker, an information technology (IT) professional and teacher, was both shocked and dismayed at the lack of both availability and the utilization of high tech resources in central West Virginia.
In some respects he views high tech availability similarly to having running water and electricity.
Baker began working with the Calhoun County School System and Minnie Hamilton Health Care in Grantsville. He assessed technology needs and helped them update services, hardware and networking needs.
Baker has been influential in providing Minnie Hamilton with expanded capabilities that have helped the clinic grow and expand. He now serves as president of the board there.
Minnie Hamilton now transmits all X-Rays via internet, bill processing is more efficient, filling prescriptions is faster and as a result profits have increased, according to Baker.
Glenville State College was in the midst of what seemed to be a never-ending train wreck beginning in the late 1990s and extending until 2003.
The venerable institution lost its two community college components, half of the enrollment and there were constant rumors of closure. The school also suffered severe budget cuts.
In 2002, for example, most of the media attention GSC received was negative, as there was continued speculation the State planned to close the school. And it was during this time-frame the idea of the WiFi network was initially discussed.
Citizens, alumni, and a few state legislators who believed in GSC began to pull together to save the institution.
Then with the help of all of West Virginia's Congressional members, particularly Senator Rockefeller, Senator Byrd and Congressman Mollohan, appropriations began flowing to the school.
In February 2003 Senator Byrd and Congressman Mollohan were successful in getting GSC $2.7 million to expand the student center and add a high tech classroom. It's been since named after Mollohan.
That same month a $400,000 grant from Learn.com software was awarded. The following month funding for a $5.2 million science building was secured.
As associate vice-president of technology at GSC, Baker has secured grants, is GSC's lead advisor for the wireless internet project, and has overhauled the college's e-mail system.
The school now has new phones, there's internet availability in the dorms, and he supervised the replacement of over 70 computers throughout the school.
The school has had a face lift.
Glenville State College now offers RN and BSN nursing degrees. And a National Corrections and Law Enforcement Training and Technology Center opened last year.
Glenville's enrollment has increased the past two years. The future looks brighter, but veteran education insiders still believe the school is not entirely "out of the woods."
Although little has been written about the subject, sources have suggested there is a plan for West Virginia University and Marshall University to "divide up the state" placing all State operated higher learning institutions under their umbrella.
However, such a move would be no guarantee of the future status of individual schools.
And the politics of education is a topic rarely discussed, or admitted beyond the threshold of an institution's doors. It's as if there is a dark, seedy secret lurking like a ghost in the halls of academia.
THE DARK SIDE OF THE MOON
Rural America has been largely by-passed in the broadband (high speed internet access) revolution due to sparse populations and the high initial start-up costs telecommunications companies face.
Accessing the internet through a high speed network is an experience comparable to the difference between walking and traveling at light speed.
In contrast to a dial-up phone connection, DSL and broadband speeds can be over 50-times faster depending on the type of connection.
Higher connection rates allows for video streaming, teleconferencing, remote learning, tele-commuting, and virtually endless educational and business benefits.
Telecommunications companies, businesses and other stakeholders, as well as the President and Congress support universally available broadband. That goal, as it pertains to rural America, will likely never be achieved - at least with present technologies.
Broadband over power lines is being tested, as well other new technologies.
For various reasons coalitions are growing to support "Network Neutrality."
This theory holds that the internet is owned by the public and no entity should exert control over content or how it is used, nor limit usage.
Concerns about telecommunication buyouts and potential issues relating to the Government and Homeland Security are growing concerns for some.